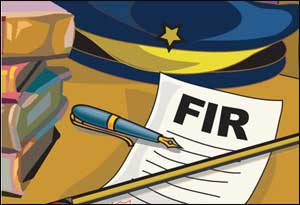 Dibrugarh: The authorities attached to the district-based St Luke's Hospital have filed an FIR against a former employee, who came to the premises with the members of a local Parishad and allegedly threatened to kill the hospital administrators for suspending him.
According to one of the administrators, Aditi Herenz, the former Office-Assistant, Satyan Gohain, brought a group of people who identified themselves as members of the Parishad and started to threaten them without giving any chance to speak.
She further alleged that they tore up his termination letter issued by the hospital authorities in front of the officer in charge of Chabua police station.
In their complaint, it has been alleged that the president of the Dibrugarh unit of the Parishad, threatened to kill Aditi and another administrator Kimson Takri, if they do not rescind the sacking. They also demanded Rs 30,000 per month and 12 bighas of land for Gohain.
Members of the Parishad also protested against the hospital and blocked the National Highway for an hour, the authorities mentioned in the complaint.
On the other hand, narrating his side of the story to Telegraph,  the concerned former employee Gohain informed that a few months ago, he had highlighted certain issues including the lack of a proper pathologist and many technicians working without any diploma at the hospital.
Claiming that the aforesaid was clearly the reason the authorities terminated his service, he told the daily, "How can they dismiss me from service without issuing a notice? It's a violation of the rules. I have been working for 12 years. On August 21, I got a letter from Shillong telling me I was dismissed. If I have made a mistake they could have issued a warning or suspended me but how can they terminate my service?"
Meanwhile, in support of Gohain, the Parishad's president claimed that the hospital management committee had done an injustice to him. He alleged that all the charges against the Parishad members were totally based on false grounds.
"Every three months, Rs 1.5 crore is given by Oil India Ltd for infrastructure development of the hospital but the management is not carrying out any work to upgrade it. The hospital is situated in Chabua and our sentiments are associated with it as our forefathers donated the land where it was built," Baruah added.
Read Also: Patna Neurosurgeon gets extortion call for Rs 4 crore, FIR lodged
0 comment(s) on Hospital Suspends Employee, Administrators get Death Threats