How a telephonic Consultation by a Doctor saved a polling officer's life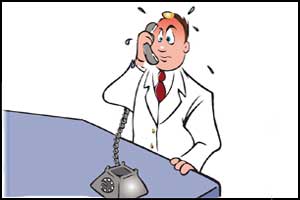 Kashmir: While the concept of medical consultation over the phone may be facing many legal criticisms in the country to the point of being considered illegal, one such telephonic consultation recently proved to be life-saving for a person, when it allowed a medical practitioner to guide two officials from the Central Reserve Police Force (CRPF) while providing Cardio- Pulmonary resuscitation (CPR). The said telephone assistance by the doctor as well as the quick thinking of the CRPF officials gave a lease of life to a polling official who suffered a heart attack
The incident took place last week when a  polling officer stationed at the polling booth in government girls' school, Buchpora started feeling unwell. This was noticed by constable Surinder Kumar who was present there at that time.
The clever CRPF officer, being trained by the Indian Red Cross Society tried every emergency numbers but was not very successful. When he realized that no one around was available for immediate help he called his senior officer Sunneem Khan, who is a  doctor in the paramilitary force and has been honoured with President's Life-Saving Award in 2017
Kumar soon realized that the polling officer was having a heart attack and the doctor soon began giving instructions to the CRPF officer on the phone. The officer following the instructions of his senior over the phone performed 30 compressions (CPR) and 3 mouth to mouth resuscitation as was being instructed. This continued for the next 50 minutes. While Khan was instructing Kumar over the phone, he on the side managed to call the Sher-e-Kashmir Institute of Medical Science (SKMS) as well as the deputy commissioner of Srinagar for an ambulance.
The official was shifted to SKIMS and his life was saved by the timely intervention of the two CRPF officials.
Medical dialogues had earlier reported that in a case of medical negligence on grounds of telephonic consultation, the Bombay High Court had held "
Prescription without diagnosis would amount to culpable negligence. This amounts to gross negligence from the point of the standard of care and recklessness and negligence, which is a tricky road to travel" the court stated
Read also: ATTENTION Doctors- Telephonic Consultation Amounts to Culpable Negligence, will attract IPC 304