ICAI Ties Up With 2 Top Medical Associations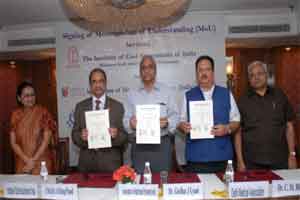 ICAI, healthcare associations to improve management of patient-linked costs
The cost accountants institute has tied up with two top medical associations — Association of Healthcare Providers (India) (AHPI) and Delhi Medical Association — to improve the cost management systems in hospitals.
Under this arrangement, members of the Institute of Cost Accountants of India (ICAI) will provide expert advice to hospitals in implementing the best practices and maintain costing system that would help the healthcare service providers in managing and controlling their costs to ultimately benefit patients.
ICAI will collect data from hospitals over a period, convert them into useful information to create a cost reference index which will categorise hospitals and ailments in different levels. This will help hospitals to know the amount they should charge. Patients will have the benefit to know their treatments falls under which category, anxiety of being overcharged will be overcome.
Dr AS Durga Prasad, president ICAI, said: "The competition in the healthcare industry has forced small healthcare units to charge lower than the cost of operations, which results in bankruptcy and a total loss of society. Through this initiative we will work out to frame a guideline which will let hospitals to know what should be the minimum amount to charge."
Initially, the arrangement will cover 25 private hospitals in and around the national capital region. Later, the scheme is to expand the facility to cover other hospitals across the country.