ILLEGIBLE : Allahabad HC summons Doctor to explain scribbled Diagnosis in Person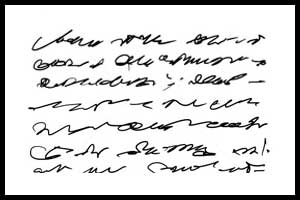 Lucknow: In a not so common case against a medical professional, a doctor, who was found to be routinely issuing disability certificates, had been pulled up by the Allahabad High Court for his illegible handwriting. The doctor has been asked to file an affidavit as well as appear personally before the court to explain the diagnosis in one such case.
The bench of honourable Justice Ashok Kumar has directed one Dr Avatar Singh to be careful, as the diagnosis mentioned by him was "not at all readable" and it was not clear what kind of disability was suffered by the said workman claiming compensation under the Workmen's Compensation Act for disability suffered due to an accident on the job.
The case concerns a patient, Guddu, who sustained a fracture in his leg on October 23, 2016 after a vehicle collided head-on with his truck. Post-surgery, he suffered disability and became unfit to drive any vehicle, suggests Livelaw in its recent report.
He was awarded a compensation of Rs 5.24 lakh by New India Assurance Co. Ltd.
Suspecting foul, the New India Assurance Co. Ltd moved the High Court with an appeal against the said award passed in favour of the patient by the Commissioner under the Workmen's Compensation Act, 1923 and Additional Labour Commissioner, Kanpur Region, Kanpur.
During the hearing, the counsel for the insurance company based his reliance on Explanation II to Section 4(c)(ii) of the Act requiring a medical practitioner to assess the loss of earning capacity of the claimant due to injury caused by an unspecified injury by having regard to the loss of earning capacity in relation to different injuries specified in Schedule I of the Act.
"The disability certificate issued by the Dr. Avatar Singh showing the disability to the extent of 50% is itself not clear, as to what kind of disability is mentioned in the certificate under the heading of diagnosis," the company pointed out.
Hearing the counsel's contentions, the court noted,



"This Court finds in many of the cases, where the same doctor, namely Dr. Avatar Singh has issued the disability certificate and mentioned the diagnosis are not at all readable by any of the counsel or either of the parties."



 Hon'ble Justice Kumar then ordered,



"Learned Standing Counsel, Sri Avinash Chandra Tripathi is directed to send a copy of this order along with the photostat copy of annexure 3, disability certificate issued by Dr. Avatar Singh dated 27.09.2017 requiring the explanation of Dr. Avatar Singh as to what he has mentioned in the disability certificate under the heading of diagnosis as the contents mentioned by him are not at all readable or cannot be explained by anyone except him."




"Dr. Avatar Singh is hereby directed to file his affidavit explaining the diagnosis mentioned by him in the instant disability certificate no. 3949 dated 27.09.2017 issued in favour of the claimant, Guddu Kumar."



While directing the doctor to appear before of the court to present his justification, the court stated,



"The affidavit with explanation is required to be filed by Dr. Avatar Singh within two weeks from today and be placed before this Court by learned Standing Counsel failing which Dr. Avatar Singh is hereby directed to appear before this Court on the next date fixed i.e. 27.09.2018."






Attached is the order: