IMA members observe fast on issues plaguing the medical fraternity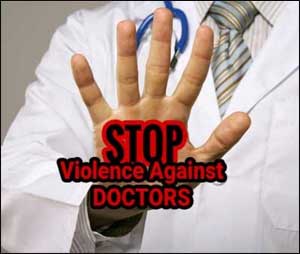 New Delhi: Doctors affiliated with the Indian Medical Association (IMA) observed a dawn-to-dusk fast to draw the government's attention towards attacks on doctors.
Members of the IMA demanded a strong legislation to prevent such incidents and speedy implementation of the Clinical Establishments (Registration and Regulation) Act.
The fast was observed by member doctors across the country between 6 am and 6 pm.
They sought withdrawal of the National Medical Council Bill, amendments to the PC-PNDT Act and a cap on compensation under the Consumer Protection Act in case of medical negligence, and professional autonomy in treatment and prescriptions.
"We have been asking for the implementation of the recommendations of the inter-ministerial committee and other demands for the past one year, but they have not been met," IMA national president Dr KK Aggarwal and secretary general Dr RN Tandon said in a statement.
Through our peaceful protest, we request the prime minister to resolve our issues in a time-bound manner.
Violence against doctors, their criminal prosecution and uncapped compensation, in particular, are some serious issues that need his immediate intervention, they said.
"We lack an evidence-based, data-based health care policy. Health care is not addressed from a public health point of view and emphasis is given to curative medicine only.
The social determinants of health such as safe water, sanitation, nutrition and environmental factors are not addressed.
"Wherever the health parameters have improved it is due to a better health worker population ratio," they said.
Medical Dialogues team had earlier reported that the majority of doctors in India feel stressed out mainly because of the fear of violence.
The study, conducted by the Indian Medical Association (IMA), found that about 82.7 percent of doctors in India are stressed out in their profession. Fear of violence is the main stressor in many doctors (46.3 percent) followed by fear of being sued (24.2 percent) and fear of criminal prosecution (13.7 percent).
Read also: Majority of Indian docs stressed out due to fear of violence: IMA