Improving worldwide reproductive health is a priority: J P Nadda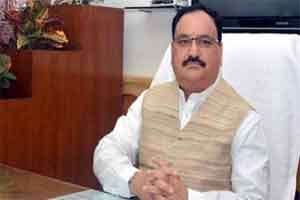 Union Health Minister
JP Nadda
yesterday sought assistance and support from all the PPD member countries to improve the
reproductive health
of people in the developing nations.
Addressing '
Partners in Population and Development
' annual board meeting in Dhaka today, Nadda said that an effective strategy in designing online courses on reproductive health and setting-up centers to demonstrate low cost innovations in the health sector needs to be given a priority.
Reaffirming that India will continue its commitment to promote South-South cooperation in reproductive health and population, he said, "With assistance and support from all the member countries, PPD will be able to take on these initiatives.
"It will respond to the challenges and opportunities that confront us in improving the reproductive health of people in the developing world," he said in a statement.
Nadda also appealed to all the partners to work together to share sustainable, effective, efficient, accessible acceptable and equitable solutions to the common problems considering the diversities of the member countries.
The 10 founding members of the organisation are Bangladesh, Colombia, Egypt, Indonesia, Kenya, Mexico, Morocco, Thailand, Tunisia and Zimbabwe.
However, the organization has expanded to include India, Pakistan, Benin, China, Ethiopia, the Gambia, Mali, Uganda, Ghana, Senegal, Nigeria, South Africa, Jordan, Yemen and Vietnam, broadening the reach of PPD to over half of the world's population.
Expressing satisfaction on the body of work that has been done together in reinvigorating PPD, he said, "We have taken stock of the organization through a comprehensive management and financial audit, reviewed and streamlined management policies and practices.
"We have restructured governance and management systems and procedures, created more inclusive governance by expanding the Executive Committee," he added.
The Health minister also said that in order to strengthen South-South Cooperation, PPD has undertaken a survey to assess the need of member countries and he hoped that the presentation of these findings will be instrumental in determining how we move forward.