Include Taekwondo in Medical Curriculum: MCI receives proposal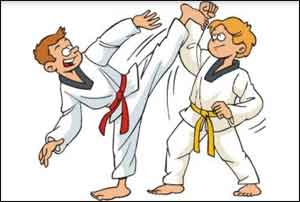 West Bengal: Consequent to the repeated attacks government medical colleges and hospitals in Bengal, the Directorate of Medical Education, WB has now proposed to the Medical Council of India that Taekwondo training should become a  part of the MBBS curriculum for all medical students in all government medical college and hospitals.
TOI reports that apart from sending this proposal, the DMER itself has started is keen on introducing this Korean martial art to medical students, not only for self-defense but also for discipline and character-building. Many medical colleges and hospitals in the state, including RG Kar Hospital and CNMC have put forward the proposal of Taekwondo classes, with NRS Hospital taking a lead, where 100 doctors are taking taekwondo training twice a week from early this year.
"Taekwondo is not only about self-defence but also about self-discipline, increasing stamina and building character. Getting taekwondo training from experts like Grand Master Roy would immensely help medical students in all aspects of their lives," NRS Hospital deputy superintendent Dr Dwaipayan Biswas told TOI.
It is reported that MCI is yet to provide its feedback to the state government on its proposal