India Home Health Care Honoured with Jury Award for Most Promising Home Healthcare Service Provider 2016 in India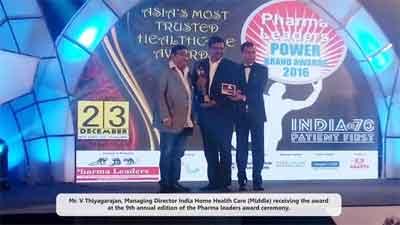 India Home Health Care (IHHC), one of the leading providers of home healthcare services, earned the distinction of "India's most promising home health care service provider 2016" at the 9th annual edition of the Pharma leaders award ceremony in association with the Ministry of Health & Family Affairs, Government of India. The award was presented by Chief Guest Shri Jagat Prakash Nadda, Hon'ble Union Minister Health and Family Welfare.
Speaking about the milestone, Dr. Anitha Arockiasamy, President IHHC, said, "Being recognized on such a platform is a reflection of the strong commitment and unstinting efforts of our employees. We would also like to thank our customers and investors for being our strongest pillars to our success and placing immense confidence in us.  It is a proud moment to be honoured with such a prestigious distinction against the fierce competition in the healthcare industry. We value each and every member involved in the growth of our organization."
Speaking about the prospects of Home Health Care industry in India Mr. V Thiyagarajan, Managing Director who received the award on behalf of India Home Health Care said that, "Home healthcare constitutes $ 3.2 billion of the total $100 billion in health care industry. The market is expected to see a great future breaching $4 billion by 2018. We look forward to the rapid technological advancements and constant innovation in the industry to further add on to the momentum. Being recognized on such a scale and among peers in the healthcare community is a great achievement and a huge motivation to set higher standards. We strive to become the leaders and provide best possible health care services in the years to come."
Having awarded more than 500 top pharma entrepreneurs, medical professionals and research scientists since its inception, Pharma leaders is the only dedicated platform for celebration of excellence in healthcare innovation, pharmaceutical and medical excellence based on outstanding and remarkable contribution to the industry. It is widely acclaimed by industry experts & analysts as a credible award platform known for selecting top leaders through a meticulous methodology & stringent selection process involving research inputs & credible voting procedure by noted eminent juries.
India Home Health Care that provides home health care services across various cities like Chennai, Bangalore, Hyderabad and Pune was started as a voice for distressing healthcare situations. Bringing innovation through one point solution for patient care service, IHHC ensures 24 hours patient care at home. Within a short span of time IHHC has emerged as a trusted partner for home health care services to all major hospital groups and the doctor community collaborating with BAYADA Home Health Care.