Indian American Pathologist sued for misdiagnosis, coverup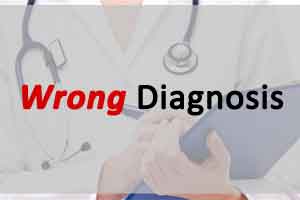 KANSAS CITY: A Kansas woman has alleged in a lawsuit that a misdiagnosis led doctors to unnecessarily remove parts of her organs and then cover up the incorrect diagnosis, which she didn't learn about until a doctor at the hospital filed a whistleblower lawsuit over her case.


The lawsuit filed this week by Wendy Ann Noon Berner, 46, of Shawnee, accuses the University of Kansas Hospital and the now-former chairwoman of the pathology department, of fraud, negligence and civil conspiracy, KCUR reported.




Berner was misdiagnosed as having a pancreatic neuroendocrine tumor, which is fatal within five years in most cases. In September 2015, she underwent a surgery to remove part of the pancreas and multiple other body parts. She alleges in her lawsuit that she learned of the problem only after Dr. Lowell Tilzer, a pathologist and one-time chairman of the pathology department, filed a lawsuit more than a year ago claiming the hospital retaliated against him when he discussed the case with the Joint Commission, which accredits and certifies hospitals. Tilzer later dropped his lawsuit and is now semi-retired.




Hospital spokesman Dennis McCulloch, said the health of its patients is the hospital system's top priority.




"We need to be respectful of patient privacy and confidentiality, and because of that we are limited in what we can say on this matter," McCulloch said in a statement. "That said, we do believe that our physicians and staff acted appropriately and with the best interests of our patient in mind."


Chad Beaver, Berner's attorney, said that Berner would not comment further at this time.


Berner's misdiagnosis was discovered after the surgery when other members of the hospital's pathology department examined tissue samples from her pancreas and determined the organ was not cancerous, a conclusion also reached by an outside pathologist, according to the lawsuit.




The lawsuit accuses Dr. Meenakshi Singh, who was leading the pathology department at the time, of making the misdiagnosis and then taking steps to cover up the mistake. Singh remains on staff but is no longer chairwoman of the pathology department, according to the medical center's website.


Singh and Dr. Timothy M. Schmitt, who performed Berner's surgery, are named as defendants, along with the hospital, the University of Kansas Medical Center and the University of Kansas Physicians, which employs physicians who practice at the medical center.