Indian Doctors bat for Fat Tax in the country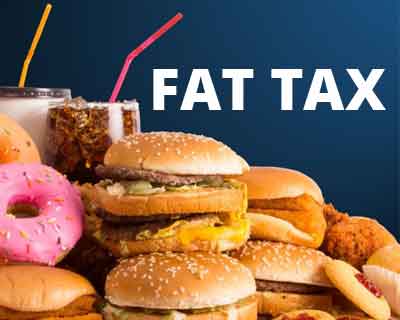 New Delhi : Calling for urgent action to provide screening and treatment, along with lifestyle modifications to control the rising burden Diabetes, CVD and CKD in India, Experts were seen batting for what is commonly known as Fat Tax in the country.A fat tax is a tax or surcharge that is placed upon fattening food, beverages.
The recommendations of  Drs Anoop Misra ( National Diabetes, Obesity and Cholestrol Foundation India), 
Nikhil Tandon ( Dept of Endocrinology, AIIMS) 
and colleagues featured in the latest edition of British Medical Journal titled
Diabetes, Cardiovascular disease and chronic kidney disease in south Asia:: current status and future directio
n.
The doctors were seen clear cut recommending the
Implementation of taxes on unhealthy foods
 A tax of 20% on sugar sweetened drinks in India is projected to reduce the prevalence of overweight and obesity by 3.0%  and the incidence of type 2 diabetes by 1.6% over the period 2014-23, assuming that consumption increases in line with current trends.
Standing in favour of the move of the Kerala Governement of "fat tax" on pizzas, burgers, sandwiches, and tacos sold through branded food outlets, the doctors stated that such strategies must be adopted in cities of South Asia that experience widespread marketing and consumption of unhealthy fast foods.
The authors gave a special mention of Palm oil, widely prevalent in the country which is high in saturated fat and causes a large increase in cholesterol concentrations
a 20% tax on palm oil purchases in India is projected to avert approximately 363 000 deaths from myocardial infarctions and strokes over the period 2014-23 (1.3% reduction in cardiovascular deaths)
Besides this, the study also recommended strengthening of health system capacity in delivering Non Communicable Disease care, nation-wide programmes against Diabetes, CVD and CKD and also increased investment in surveillance and research in the field
Currently Cardiovascular disease, diabetes, and chronic kidney disease now account for 27%, 4.0%, and 3.0% of deaths, respectively, in South Asia.
You can read the article by clicking on the following link
http://www.bmj.com/content/357/bmj.j1420
[poll id=37681]