Indraprastha Apollo Hospital Doctors, Staff Pledge to donate organs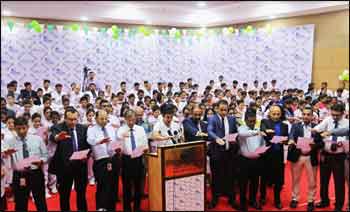 New Delhi: Indraprastha Apollo Hospitals, the leading hospital chain in India in association and Ace Cricketer Gautam Gambhir came together on the occasion of World Organ Donation Day to encourage people to take a pledge for donating organs to save countless lives. This public awareness initiative aims to bring together information and awareness on the issue of organ donation.
"Gift A Life" is a unique initiative of the Apollo Institute of Transplants to encourage people to pledge their organs and save countless lives in the process. This can be done by simply signing up on the web site – www.giftalife.org.
Gautam Gambhir also encouraged people to pledge for their organ donation, as the same can save many lives. The gathering also witnessed presence of organ recipients who were given a new lease of life through cadaver organ donations.
Dr Anupam Sibal, Group Medical Director and Senior Paediatric Gastroenterologist, Apollo Hospitals Group said "We are thankful to Gautam Gambhir for supporting us in this Noblecause. Each year, thousands of people die while waiting for an organ transplant. There is a shortage of organs, and the gap between the number of organs donated and the number of people waiting for a transplant is getting larger. One of the major reasons is lack of awareness about Organ Donation in India at large where majority of population is still shackled with myths and religious beliefs regarding Organ Donation in India, hence there is an urgent need of address this issue and create sound awareness on organ donation in India.
Speaking on the occasion, Gautam Gambhir, Legendary Cricketer and Ex India Captain said "I am extremely humbled to be a part of this drive. Organ donation is an egalitarian and a moral act. Thousands die every year for want of organs and I feel that this initiative will bridge the gap by spreading awareness in the society. Organ donation in India is not very common as compared to the developed nations, hence a lot of awareness needs to be created in society at large. I feel fortunate to able to help for this cause.
Dr Neerav Goyal, Senior Consultant – Liver Transplant, Indraprastha Apollo Hospitals said "In India, finding a donor is a difficult task and this challenge is compounded by lack of awareness. The demand for organ is outstripping the organ supply and this gap is increasing. Though the organ donation rate in the country has increased ten-fold in the past few years, yet more awareness needs to be created and we have a long way to go"
All the staff of Indraprastha Apollo Hospital also took pledge to donate organs along with Gautam Gambhir. They also urged everyone to make the decision to donate their organ. Gautam Gambhir also appealedto the media to create awareness about organ donation and saving precious lives.
Every year almost 5 lakh people die in India due to non-availability of organs. Nearly 1.5 lakh people are in dire need of kidney but only 3 thousand of them receive one. Vital organs such as the heart, pancreas, liver, kidneys and lungs can be transplanted to those whose organs are failing. A single donor can save eight lives by donating the heart, lungs, liver, kidneys, pancreas and small bowel.
Apollo Transplant Institutes were created with the aim of providing world class transplant services across the region. Since the first successful liver transplant in India in 1998, the Apollo Transplant Program has performed 21000 kidney transplants & 5600 liver transplants in children and adults till date. Contributing to this milestone, Apollo Delhi has performed 5000 solid organ transplants till date. The high quality - affordable cost value proposition that Apollo Hospitals offer has made them the preferred destination for patients not only from India but more than 30 countries.