Indraprastha Apollo Hospitals, IMA Woman Doctor Wing signs MOU to promote Organ Donation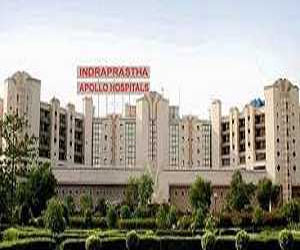 New Delhi: To advocate the cause of organ donation Apollo Hospitals Group has signed an MOU with the Woman Doctors Wing (WDW) of IMA to make people aware about the cause. The focus of this partnership is to educate the masses through a sustained campaign and help save precious lives.
This event was aimed to felicitate brave souls who had the courage to save someone's life by donating their own organs and thereby bust the myths related to organ donation. The event saw participation from donor and majorly donor families, who donated their organs to save someone's life and was addressed by Dr N Subramanian, Director Medical Services & Sr. Consultant-Urology, Indraprastha Apollo Hospitals, along with Dr. Neelam Lekhi, President, Delhi Chapter, IMA, WDW who also pledged to donate their organs.
Dr. Neelam Lekhi, President – Delhi Chapter, IMA, WDW said "When alive, a person can save at least one life by donating his organs, whereas a brain dead patient can give a gift of life to at least 3-4 people. In India, there are many myths associated with organ donation, owing to which there is a lack of willingness and awareness, leading to a low organ donation ratio. Through such platforms, we aim to drive the cause of organ donation and make more and more people aware about the noble cause"
Dr. N Subramaniam, said "Off late, through the coordinated efforts of various stakeholders, there has been a conscious rise in the rate of organ donation pledges. Many successful transplants have been conducted at Apollo Hospitals, saving lives through timely transplants, which has been a result of quick coordination between the organ transplant teams and NOTTO. Most of these are live related donor-based transplants. Developing a robust cadaver based transplant is possible considering that we have over 90000 brain deaths every year"
Dr. D R Rai, Past secretary General, IMA acknowledged the efforts and assured IMA will take lead in educating the public to come forward and donate their organs.
The programme also saw launch of "organ donor cards" which was given to people who pledged to donate their organs. Indraprastha Apollo Hospitals has initiated this drive across 30 locations including various medical colleges namely GTB, LNJP, GB Pant, Lal Bahadur Shastri, MAMC, Safdarjung, RML etc. Private hospitals including Shanti Mukund, Mata Chanan Devi too have come forward to join this drive. People are being sensitized at various other locations such as Yamuna Sports Complex, RWA's, Educational Institutions, etc.
As a testimony of success to the campaign, Youth across the city have enthusiastically pledged to donate their organs. More than 2000 people are expected to participate in this drive alone at the various centers in Delhi thus breaking the existing record of 25,000 pledges of organ donation in a single day.
India has an abysmal low rates of organ donation and compared to other western countries, Every single day, at least 15 patients die waiting for an organ and every 10 minutes a new name is added to this waiting list. India is struggling with an acute shortage of organs for transplantation and the numbers highlight the crucial gap between the number of organs required and the organs available for transplantation. This gap is very unfortunate as organs from an individual can save up to 8 lives. According to estimates, almost a quarter-million await a kidney transplant, but no more than 5 percent can avail it.  The situation is worse for patients waiting for heart transplants."