Indraprastha Apollo launches 'Silent' 3 Tesla MR Service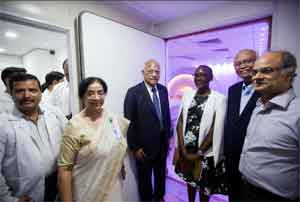 New Delhi: Indraprastha Apollo Hospitals, New Delhi announced the launch of the wide-bore, 'Silent' 3 Tesla MR (INGENIA) from PHILIPS which enhances patient comfort and is the most contemporary MR applications for all clinical specialities. The introduction of this technology complements the class leading imaging technology on offer by the hospital which includes the PET SUITE, the 128 CT, Novalis Tx and Brachtherapy units.
This 3-Tesla MRI has a 70 cms wide bore with an ultra-short magnet length resulting in extreme patient comfort with no claustrophobia. The magnetic field homogeneity, coil design and high performance gradients ensure uniform image quality across the large field of view and patient weight upto 250 kgs.
The special 'In Bore experience' 'mood lighting' and fresh air supply goes a long way in providing an ambience which reduces anxiety for the patient during the examination. This feature is exclusive to Philips. Simultaneous multi slice software (SMS) reduces scan time for diffusion studies by 68 percent
Some of the latest applications available to meet the requirements of various clinical specialities are –


Neuro imaging - In addition to the routine imaging, advanced applications like arterial spin labelling (ASL) performed without contrast is very useful in patients with renal failure. Also multi slice acquisition allows stroke imaging in 8 minutes. The 4D Trance a non-contrast technique provides contrast free dynamic imaging of the brain vascular anatomy.


Body Imaging - Liver Imaging with least amount of breath hold with automated calculation of fat and iron is now available. To study the a tumour in detail, contrast and non-contrast angiography with very high frame rate is available to differentiate between arterial and venous phase.


Musculoskeletal Imaging - High density dedicated surface coils for wrist, shoulder, knee and ankle are available. Cartilage mapping and facility for parametric maps are also available. MR conditional implant scan uses automated software (O-MAR) to remove artefacts from implants of spine, knee and hip.