Inj Voveran Banned: Drug regulator cancels licence for Diclofenac sold by Novartis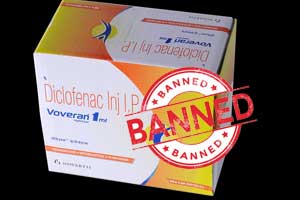 The Drug Controller General of India (DCGI) further ordered for the withdrawal of the drug's stock from the market.
New Delhi: India's drug regulator has enforced a ban on the manufacture and sale of painkiller injection, Diclofenac, made by Themis Medicare and marketed by Novartis India Ltd under the brand name Inj Voveran 1ml, after a Health Ministry panel raised concerns over the medicine's impact on health.
Medical dialogues had earlier reported that a panel from health ministry had raised concerns over the safety of diclofenac injection. The panel was responding to the allegations raised a by Gujarat based Pharma Company on the safety of the Novartis Drug
Read also: Voveron 1ml causes Kidney Damage: Health Ministry panel recommends toxicity check for component
"The DGCI ordered for the cancellation of the manufacturing licence granted to Themis Medicare for Diclofenac sodium injection 75 mg/ml, containing Transcutol-P ...on July 4," a government official said.
The Drug Controller general of India (DCGI) further ordered for the withdrawal of the drug's stock from the market.
The order came as a shot in the arm for Troikaa Pharmaceuticals Ltd, based in Gujarat, which had claimed that the diclofenac sodium 75mg/ml injection contained Transcutol-P which caused damage to the kidneys. . As per pharmaceutical market research firm AIOCD Pharma Trac, Troikaa and Novartis together command over 60% market share of 1 ml diclofenac, which is estimated to be worth around Rs 2000 crore.
Diclofenac injection was marketed by Novartis under the brand name Voveran 1ml.
It is reported that following allegations by Troikaa, which had approached the Health Ministry to stop the injection's sales, the government had formed a panel to review its safety in 2015. The panel submitted a report favouring Troikaa.
A second committee was formed after Novartis moved the Health Ministry which gave a clean chit to the company prompting Troikaa to approach the Delhi High Court in 2016.
"A third committee was then formed under Girish Sahni, director general, Council of Scientific and Industrial Research (CSIR), in May last year which in its report, submitted in December, backed the claims made by Troikaa," the official said.
The DCGI has directed the state drug controller in Dehradun, Uttarakhand, and the drug licensing authority of Daman and Diu to cancel the license granted to M/s Themis Medicare to manufacture for sale of Diclofenac injection 75 mg/ml containing Transcutol-P, the official said.