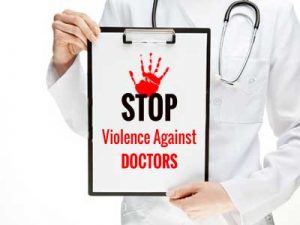 New Delhi: Responding to the flash strike of resident doctors associated with Maharishi Valmiki Hospital on the issue of growing assault of doctors, the Delhi Government has directed the hospitals to file an institutional FIR following every case of assault. With a satisfactory meeting with the Delhi Government officials, the doctors have also called off their three day strike
Medical Dialogues team had earlier reported that around 70 resident doctors of MV hospital in New Delhi had gone on strike after their colleague was assaulted by the patient's relatives at the hospital. Doctors had lamented that the resident doctor assaulted had to himself go and file a personal FIR with the police, even when the Doctors Protection Act calls that institutional FIR had to be filed in such cases.
A meeting was held between the RDA representatives, FORDA representatives as well as the hospital authorities with the health ministry officials. The ministry noted that in this case, since the FIR has been already lodged individually by the Senior Resident himself, the MS is advised to ensure proper follow up of the FIR lodged. Further the secretary directed for explanation of the WO on duty during the time of assault of the Resident Doctors should be obtained for not registering the institutional FIR.
As per the minutes of the meeting stated that following decisions were also taken
Whenever, a, instance of assault on the resident Doctors is reported institutional FIR will be registered by the CMO/MS of the concerned hospital.
MS should convene regular monthly meetings with the representatives of the Resident Doctors to address their grievances, if any.
RDA Welfare Committees as existing in some of the Central Hospitals to be constituted by the MS and meetings of these committees should be conducted regularly.
Minutes of these meetings may be uploaded on the website and copy may also be sent to secretary
Th Resident Doctors-should call of the strikes immediately.
Besides the incidence of assaults, many other concerns were raised with the ministry. Dr Pankaj Solanki, former president FORDA informed Medical Dialogues, " Matter of maternity leave for adhoc residents was taken up and we have to now submit  the data that how many resident doctors have been denied maternity leave in last 3 years. Also the issue of appointment of residents on adhoc basis was raised and was taken up. It has been clearly stated that the Medical Superintendents should conduct regular interviews timely. We will also  submit the data comprising of hospitals those who haven't conducted regular interviews in last 1 year and number of resident doctors working on adhoc as of now. Positive action has been promised by the government."
0 comment(s) on Institutional FIR Must in cases of Assault: Delhi Govt tells Hospitals