It is for society to profit from Medical Science, not for medical science to profiteer from society: President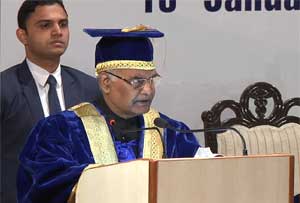 The principal actors, the fulcrum of the medical system, are the doctors-POI
New Delhi: The President of India, Shri Ram Nath Kovind addressed the 45th convocation of the All-India Institute of Medical Sciences (AIIMS) in New Delhi (January 16, 2018). While praising the AIIMS has a national center of excellence, a byword for quality, commitment and rich experience, the President stated that the faculty and doctors, as well as of course the students, are the pride of our medical fraternity and our nation
With the speech , the President advised the graduating doctors that as they go into the world – a world that needs their services more than ever before – they should remember that they need to give back to society. He stated that
it is true that they need to be legitimately rewarded for their academic excellence, their medical skills
and
their expertis
e. Yet, as doctors, their services must be available both to those who can afford their fees and also to those who are less fortunate and cannot. The disease does not distinguish between rich and poor but unfortunately the poor suffer the most.
It is for society to profit from medical science – it is not for medical science to profiteer from society,
he added
Pointing out the shortage of doctors in our country, the President said that doctors need help in the form of more colleagues. "And this is where we need a new regulatory system to enhance the availability of doctors and medical professionals in our society. In the absence of this, the work-load on our doctors is very high." he said
The President said that currently our medical colleges, whether run by the government or private institutions, have only about 67,000 undergraduate seats and 31,000 postgraduate seats. "In a country of 1.3 billion people, this is highly inadequate. We have to overcome regulatory bottlenecks and interest groups that have prevented the growth of quality medical education in our country. This gives us far fewer medical graduates and postgraduates every year than our people need. It also leads to aspiring medical students seeking admission in colleges in other countries – simply because they have limited options at home. This is simply not acceptable. As a nation, we need to address this situation very urgently. We need to create more opportunities for those young people who want to make medicine their calling."
Inspiring the students, he said "
In all this, the principal actors, the fulcrum of the medical system, are the doctors – all of you who are being awarded degrees today. Without
you
, the system will not work. Led by you, it is for all of us to ensure that India's healthcare efforts reach every citizen and not just some citizens. It is for you to ensure that healthcare indices for the entire population reach acceptable levels during our lifetime. This is how the battle against polio, and earlier smallpox, was fought and won. Those victories must inspire us and spur us to a healthier India in all its dimensions
."
Check out his full speech
[embed]https://www.youtube.com/watch?v=hrI6D7WwfKY[/embed]