................................ Advertisement ................................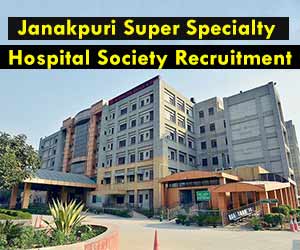 Delhi– Janakpuri Super Specialty Hospital Society (JSSHS) has released 27 vacancies for Faculty and Specialist posts on the Ad-hoc basis. The selection will be done based on an interview.
JSSHS is an autonomous (envisaged to be a post-Graduate Institute) registered under the Society Act under the National Capital Territory Government of Delhi. This institute is the customer and eco-friendly. Janakpuri Superpeciality Hospital- Society caters close to 4,50,000 outdoor patients (OPD) per year along with Indoor facilities.
Last Date to Apply: 31st October 2019.
................................ Advertisement ................................
For more details about Qualification, Age, and Pay Allowance and much more, click on the given link:
https://medicaljob.in/jobs.php?post_type=&job_tags=JSSHS+job&location=&job_sector=all
................................ Advertisement ................................
Vacancy Details:
Total no. of vacancies- 27
Professor- 07
Associate Professor- 07
Assistant Professor- 05
Specialist- 08
The Vacancies are in the Department of- Nephrology, Neurology, Gastroenterology, Anesthesia, Microbiology, Pathology, Radiology, Cardiology, and CTVS.
What are the General Instructions?
1 Janakpuri Super Speciality Hospital Society is an Autonomous Institute established under the Government of NCT of Delhi.
2. Service under the Institute is governed by the Act and the Rules & Regulations framed thereunder.
3. The Post of Professor will carry consolidated emoluments of Rs. 2, 00,000/- [Rupees Two Lacs only per month (Inclusive of all allowances).
4. The Post of Associate professor will carry consolidated emoluments of Rs. 1, 65,000/- [Rupees one lacs sixty-five thousand only] per month. (Inclusive of all allowances).
5. The Post of Assistant Professor will carry consolidated emoluments of Rs. l, 25,000/_ [Rupees one lacs twenty -five thousand only per month. (Inclusive of all allowances.
6. The Post of Specialist Grade – III will "carry-as per 7th CPC Matrix Level l l, pay R.s. 67700 plus admissible allowances as per rules per month.
7. Age. and all other qualifications i.e. experience etc. will be counted as on the last date of receipt of application.
8. The candidates while appearing for interview will produce all relevant original documents along with one number of attested photocopies of all testimonial/certificates and one passport size photograph.
9. The selected candidates will have to follow the rules & regulations of the hospital and will not question the same.
10. Age relaxation for SC/ST/OBC Ex-Serviceman/DIVYANG (PH) candidates will be as per Govt of India's rules. Age and all other qualifications will be counted as on the last date of receipt of application.
11. Candidates seeking benefits of relaxation in age and fee under SC/ST/OBC categories should produce the relevant certificates (issued before the date of advertisement) issued by competent Authority. The OBC certificate should be issued by the competent Authority of GNCT of Delhi.
12. The application received after due date and time will not be entertained. The Hospital administration shall not be responsible for any postal delay.
13. The candidates should not have been convicted by any court of law.
14. Any canvassing by or on behalf of the candidate or any outside influence in any form with regard to selection will lead to disqualification.
15. The appointment will be terminated if any declaration/information furnished is found false or any material fact is suppressed willfully.
16. The decision of the Chairman of the Selection board regarding the selection of the candidates will be final and no representation will be entertained in his regard.
17. The Hospital reserves the right to change the number of vacancies, withdraw the process, in full or in part and also right to reject any or all applications received without assigning any reasons or giving notice, etc.
l8. The Teaching & Non-Teaching faculty will have no right to stake a claim for a regular appointment for the post against which they are engaged in a tenure post basis.
19. In case of any disputer, the legal jurisdiction will Delhi only.
20. In case the last date of receipt of application is declared a holiday, the last date for – receipt of the application will be considered as the next working day.
21. The appointment to the said post will be subject to -pysical fitness from the competent medical board for which he will be sent to designated medical authority by the Institution before joining the post.
22. Applicants should indicate the name and discipline of the post applied for legibly on the envelope and the first page of prescribed "APPLICATION FORM".
Medical Dialogues Bureau consists of a team of passionate medical/scientific writers, led by doctors and healthcare researchers.  Our team efforts to bring you updated and timely news about the important happenings of the medical and healthcare sector. Our editorial team can be reached at editorial@medicaldialogues.in. Check out more about our bureau/team here
0 comment(s) on Janakpuri Super Specialty Hospital Delhi releases 27 vacancies for Faculty, Specialist posts
................................ Advertisement ................................