Jharkhand: 3 Day strike of doctors in the state begins yesterday for implementation of MPA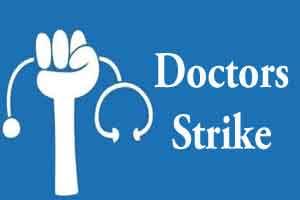 Ranchi: Medical practitioners working with several government hospitals in the state commenced their three day strike on Wednesday, demanding the implementation of medical protection act across all hospitals.
The strike is seeing participation from all major government hospitals , excluding RIMS, where doctors are boycotting the OPD facilities. Emergency facilities however are reported to be operational everywhere.
JHASA's Secretary Vimlesh Kumar told IANS that"We have started boycotting work from Wednesday to press for our demands. The emergency services were excluded from the strike."
He added that " if their demands are not heard by the government, they will start submitting their resignations from October 2 and and it would be handed over to the Chief Minister on October 15."
MedicalDialogues
team earlier reported that the doctors working with the government hospitals of Jharkhand declared for a three-day strike starting from September 28 to 30
th
demanding for the said implementation of MPA in all the state hospitals.
This came after a joint decision was made to this effect in a meeting held between the state IMA as well as the Jharkhand Health Services Association (JHASA).
Read Also : 
Jharkhand: Doctors call for a 3 day Strike on implementation of Medical Protection Act
The striking doctors are also expecting participation from private practitioners on 30th September.
"The entire state is being catered to be by only 1,170-odd doctors. Out of these only 800-odd are actually available for on-ground duty. One doctor is holding multiple additional charges. On the other hand, the doctors have to bear the brunt of the anger of attendants of patients. The government has been assuring us since last year that effective action would be taken with respect to such demands. However, nothing has moved forward. That is why we have been forced to resort to such boycott. Even so, we are trying our best not to let common man face inconvenience", IMA, Jharkhand state secretary Dr Pradeep told Indian Express.
Besides demanding implementation of the Medical Protection Act, doctors have put forward some other demands including block level and district level posting of doctors to improve the availability of doctors in these areas, withdrawal of order to make biometrics mandatory to register attendance, to allow private practice as they do not get any non-practice allowance, include adequate basic facilities in Primary Health Centres, additional primary health centres (Addl PHCs) and community health centres (CHCs) for doctors.
The doctors have also demanded to fix working hours of all the practitioners in the state, reports IANS.
The Health Minister of the state, Ramchanra Vansi has appealed to the doctors to rejoin work.