JJ hospital Officer, Fortis Hospital Coordinator arrested for kidney transplant bribe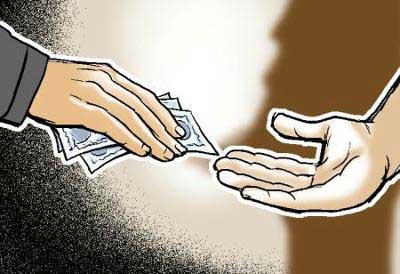 Mumbai: Two medical staff associated with well-known medical facilities in the state, were recently arrested after being caught red-handed accepting a bribe of Rs 80,000 to facilitate clearance of the file of a patient in need of kidney transplant.
The accused duo, identified as Tushar Savarkar (34), a social service Branch Officer of JJ Hospital, and Sachin Salve (32), a co-coordinator with Fortis hospital in suburban Mahim, had demanded Rs 1.50 lakh from the family members of the patient, but had settled for Rs 80,000, an Anti-Corruption Bureau (ACB) official confirmed to the news agency PTI.
In addition, the role of three of the JJ hospital's doctors is also being investigated.
The bribe episode happened on 1st October when the duo was arrested while accepting the amount from a family member of the patient who is currently undergoing treatment for renal failure in the private hospital. "The patient is on dialysis and wanted to undergo a renal transplant surgery," the official informed.
The patient had found a donor in his family but needed an approval of JJ hospital for the surgery as per law. In order to get the necessary approval, Salve sent the file to Savarkar for processing.
On September 18, the patient, donor and other family members were interviewed by the authorization committee that meets in JJ Hospital. However, Savarkar allegedly told the family that the donor fumbled during the interview and their case may be rejected, reports The Hindu.
Savarkar asked the family members of the patient to pay Rs 1.50 lakh for clearance of file. The amount was later brought down to Rs 80,000 after negotiations.
The family members approached the ACB officials who arrested the duo at the office of Savarkar and booked them under various charges. Later, the authorities initiated a probe into the matter.
When contacted, Director General of ACB Sanjay Barve told The Indian Express, "The investigation is at an early stage and it will be taken to its logical conclusion. It is a sensitive matter where a person who needed a kidney transplant and also had a donor had to suffer for no fault of his. No one involved in the case will be spared."
 The state's medical education department said the three-member committee, headed by Dr Prakash Wakode, Joint Director of Directorate of Medical Education and Research (DMER), Dr Ajay Bhandarwar, Head of Surgery at JJ and hospital Vice Dean Dr VP Kale, will submit a report within 10 days. Dr Pravin Shingare, who heads DMER, informed TOI all members from the previous SAC have been replaced with a new set of experts.
Dr Shingare said that a show-cause notice would be served to S L Raheja-Fortis Hospital. "We will ask for their remarks on the case," he added.
Read Also: CBI arrests Ayush Ministry Under Secretary for allegedly taking Rs 10 lakh bribe