JOB ALERT: CMC Vellore releases vacancies for Senior Resident post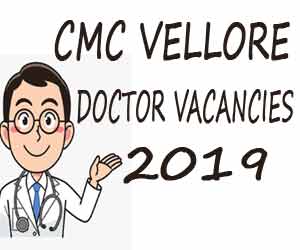 Vellore- Christian Medical College and Hospital (CMC Vellore) have released 10 Vacancies for Senior Residents. The selection will be done based on the Interview.
Christian Medical College Vellore includes a network of primary, secondary, tertiary and quaternary care hospitals, with around 3000 beds spread across six campuses in and around Vellore, and in the neighbouring state of Andhra Pradesh.
For more details about Senior Resident Qualification, Age Recruitment click on the given link:
https://medicaljob.in/jobs.php?post_type=&job_tags=CMC+vellore&location=&job_sector=all
Vacancy Details:
Total no. of vacancies- 10
For vacancies in the departments of - Ophthalmology, Paediatrics, Orthopaedics, and General Medicine, the Last Date to Apply is 14th October 2019.
For vacancies in the departments of - Anaesthesia, Family Medicine, Geriatric Medicine, PMR, Radiotherapy, and Palliative, the Last Date to Apply is 21st October 2019.
All the interested candidates are requested to apply till the last stipulated date.
What is the Pay Allowance?
This job is related to a position on the CMC, Vellore Chittoor campus. You will receive a salary and accommodation, as per the job description that you are eligible for. Being an advanced secondary care facility with which is evolving into a teaching unit, you would perform the role of a full-time consultant.
How to Apply?
Apply with bio-data, certificates and testimonial copies with the contact phone number, e-mail ID & Address should be sent to Dr. Nihal Thomas, Associate Director (Chittoor) Christian Medical College, Town Campus, Vellore - 632 004 email: dir.chittoor@cmcvellore.ac.in.
Janakpuri Super Specialty Hospital Society (JSSHS) has released 27 vacancies for Faculty and Specialist posts on the Ad-hoc basis. The selection will be done based on an interview. The 27 vacancies include -- Professor- 07; Associate Professor- 07; Assistant Professor- 05 and Specialist- 08
Last Date to Apply: 31st October 2019. The Vacancies are in the Department of- Nephrology, Neurology, Gastroenterology, Anesthesia, Microbiology, Pathology, Radiology, Cardiology, and CTVS.
Read Also: Janakpuri Super Specialty Hospital Delhi releases 27 vacancies for Faculty, Specialist posts