Job Alert: ESIC Hospital Delhi releases Vacancies for Faculty posts; APPLY NOW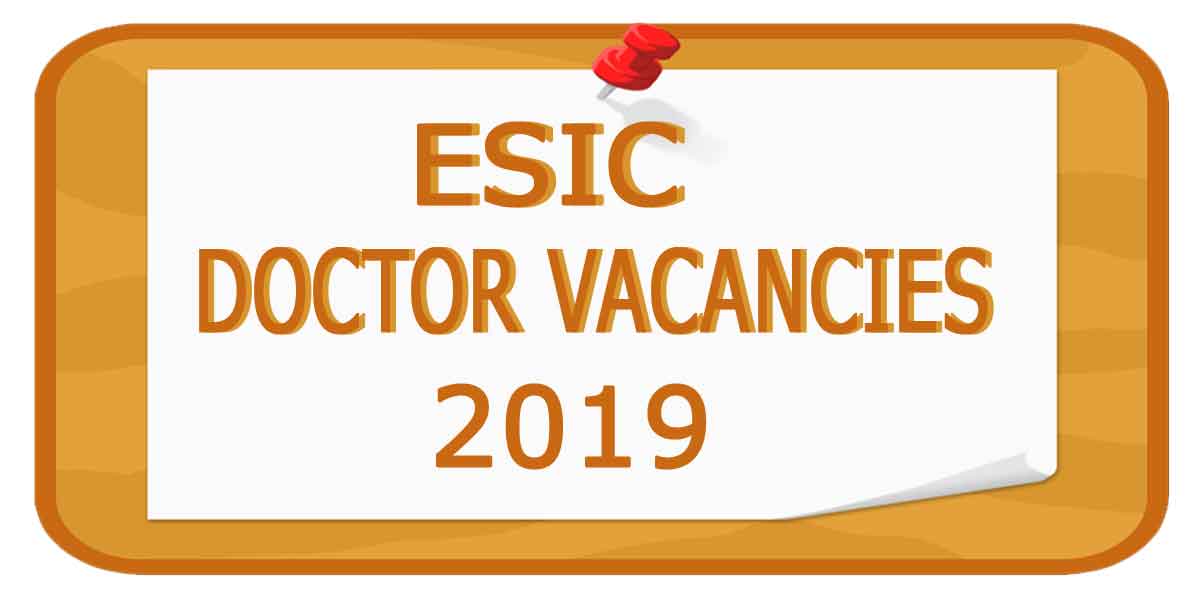 Delhi - The Employees' State Insurance Corporation Dental College & Hospital, (ESIC Delhi) has released 15 vacancies for Faculty posts. The Selection will be done based on Interview.
Employees' State Insurance Corporation is a statutory body constituted under an Act of Parliament (ESI Act, 1948) and works under the administrative control of Ministry of Labour and Employment, Government of India. Employees' State Insurance
Corporation.
Last Date of Application: 11th October 2019
For more details about Qualification, Age, and Pay Allowance and much more, click on the given link: 
https://medicaljob.in/jobs.php?post_type=&job_tags=ESIC+delhi&location=&job_sector=all
Vacancy Details:
Total no. of vacancies- 15
Associate Professor- 06
Assistant Professor- 09
The vacancies are in the departments of- Anesthesia, pharmacology, General Medicine, General Surgery, Pathology, Bio-Chemistry, Microbiology, and Anatomy.
What is the Selection Procedure?
(i) List of Shortlisted Candidates for an interview will be uploaded on the website. (www.esic.nic.in) or on ESIC Dental college till the link is provided (https://www.esic.nic.in/medical/32/delhi/delhi/esic dental-college-hospital-Rohini-Delhi)
(ii) Selection will be made based on an interview which will be conducted by the ESIC Selection Board
(iii) The result of the interview shall be published and uploaded on the web site of ESI Corporation and College website and no inquiry or correspondence in this regard will be entertained.
 (iv) Selected· candidates will have to join immediately after receipt of the offer of appointment (by Post/Email).
What are the General Instructions?
i) The crucial date for determining the age limit and other eligibility criteria shall be the closing date for receipt of applications from candidates in India.
(ii) These posts will also be advertised for regular selection.
(iii) Mere submission of the application does not confer any right to the candidate for being called for interview.
(iv) Incomplete or Unsigned applications or the applications received without the certified copies of mark sheets, certificates of date of birth, educational qualifications, experience, application fee, valid caste certificate and photographs and those received after the last date of receipt of applications will summarily be rejected without any communication to the candidate.
(v) Wrong declarations/submission of false information or any other action contrary to law shall lead to cancellation of the candidature at any stage. The opportunity of Interview given to candidates will be on a provisional basis.
(vi) The ESIC Dental College takes no responsibility for any delay in receipt or losses in postal transit of any application or communication.
(vii) Before applying for the post the candidate should ensure that he/she fulfills the eligibility criteria mentioned above. The ESIC Dental College would be free to reject any application at any stage of the selection process if the candidate is found ineligible for the post for which he/she has applied.
(viii) Canvassing in any form will be a disqualification.
(ix) Disqualification -No person:-
(a) who has entered into or contracted a marriage with a person having a spouse living; or
(b) Who, having a spouse living, has entered into or contracted a marriage with any person; shall be eligible for appointment to the said posts.
(ix) Provided that the Director-General may if satisfied that such marriage is permissible under the personal law applicable to such person and the other party to the marriage and that there are other grounds for so doing, exempt any person from the operation of this Regulation.
(x) No TA/DA is admissible for attending the interview.
(xi) The contractual engagement may be terminated/ discontinued on either side giving, one-month prior notice to this effect without assigning a reason.