Job Alert: UPPSC releases 414 vacancies for Assistant Professor Post, Details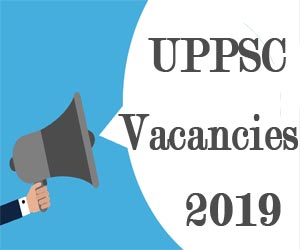 Uttar Pradesh: The Uttar Pradesh Public Service Commission (UPPSC) has released 414 vacancies for the post of Assistant Professor on Gazetted/Temporary Basis. The selection will be done based on an interview.
UPPSC is the state agency authorized to conduct the Civil Services Examination for entry-level appointments to the various Civil Services of Uttar Pradesh. The agency's charter is granted by the Constitution of India.
Last Date to Apply: 26th September 2019
For more details on the qualification, experience, Age, and Pay Allowance click on the following link:
https://medicaljob.in/jobs.php?post_type=&job_tags=UPPSC+job&location=&job_sector=all
Assistant Professor Vacancy Details:
Total no of Vacancy: 414
The vacancies are in the departments of- Community Medicine, Anesthesiology, Obs. & Gynae, Skin & VD (Dermatology), Opthalmology, General Medicine, Radiodiagnosis, ENT(Oto-RhinoLaryngology), General Surgery, Pathology, TB & Chest, Forensic Medicine, Radio Therapy, Neuro Surgery, Orthopedics, Psychiatry, Blood Bank, Epidemiologist, Paediatrics, Physical Medicine & Rehabilitation, Gastroenterology, Nephrology, Human Metabolism, Cardiology, Thoracic Surgery, Plastic Surgery, Transfusion Medicine, Emergency Medicine, Cardiac Surgery, Anatomy, Biochemistry, Microbiology, Pharmacology, and Physiology.
Important:
(1) "Incomplete Online Application Form shall be rejected and no communication in this regard shall be entertained."
(2) "If at any stage, it comes to the knowledge of the commission that the candidate has concealed or
misrepresented any information, his candidature shall be rejected and proceeding to debar him from future examinations and selections shall be initiated."
Special Notice:  
(a) "Applications will be accepted only when a fee is deposited in the Bank up to prescribed last a date for fee deposition. If the fee is deposited in the bank after the last date prescribed for fee deposition, the on-line application of the candidate will not be accepted and the fee deposited in the bank will not be refunded in any condition. It will be the responsibility of the candidates to deposit fee in the bank up to the last date prescribed for fee deposition and 'submit' the application up to the last date prescribed for submission of applications. It is also informed that less or more amount deposited in the form of examination fee shall not be refunded in any condition."
(b) In Online Application System, the candidates have to provide their Mobile No. in prescribed column failing which their Basic Registration shall not be completed. All relevant pieces of information/ instructions shall be sent through SMS on that mobile.