Job Alert: Vacancies for Junior Resident post at Delhi Hospital, Details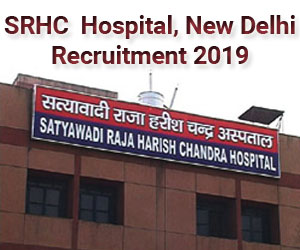 New Delhi: Satyawadi Raja Harish Chandra Hospital (SRHCH Delhi) released 09 vacancies for Junior Resident post on Adhoc Basis strictly on merit. The Selection will be done on the basis of Walk-in-interview.
The appointment for the post will be done for a period of 89 days or till regular candidate joins, whichever is earlier, will be held in the Conference room of this hospital on 07.05.2019 (Tuesday).
All eligible candidates who are interested for the same are requested to appear for the Walk-in-Interview on the scheduled date and time with self-attested copies of testimonials and one recent passport size photograph. Original certificates/documents are also required at the time of interview for verification. 
Date of Interview: 07-05-2019.
Registration shall be open between 09:00 A.M. to 11:30 AM. No candidate shall be entertained after 11:30 AM.
* 02 Vacancies will arise on 18.05.2019.
Total No. of Vacancies: 09
For more details about Junior Resident, Recruitment click on the given link:
MBBS degree from recognized University/Institute. Candidate must have not completed one year Junior Residency from any Govt. Hospital.
As on 01.05.2019 shall be 40 years for General candidates, 45 years in case of SC/ST and 43 years in case of OBC candidates in accordance of circular No. F.No.121/26/2010/H&FW/1996-2045, dated 10.06.2011 issued by Health & Family Welfare Department, Govt. of NCT of Delhi.
* For candidates applying OBC category, the certificate must be issued by the competent authority of Govt. of NCT of Delhi.
Pay Matrix of Level-10 (Rs.56100-177500)+NPA+ Usual allowances as admissible from the time to time.
Note:
1.Internship:- The candidate having completed compulsory rotating internship earlier than 01.05.2017 shall not be eligible.
2. Must have valid registration certificate with Delhi Medical Council.
3. Appointment will be initially for a period of 89 days, extendable up to maximum of one year on the basis of satisfactory work & conduct report from the concerned HOD on request from the doctor concerned.
4. Appointment will be subject to verification of certificates of educational qualification/age/caste/DMC registration and internship completion certificate etc.
5. Junior Residents who have completed one year of Junior Residency shall also be allowed to appear in the Interview and will be offered residency only if fresh candidates for the post of Junior Residents are not available. There would be no extension for any Junior Resident beyond one year of appointment under relaxed provisions (vide Circular No. F. 121/26/2010/H & FW/1996-2045 dated 10.06.2011).
6. There is no fee for appearing in the Interview.
7. Reservation for Person with disabilities candidates / Differently abled persons shall be as per rules of Govt. of India.
8. Hostel Accommodation is compulsory for Junior Residents.
9. Post Graduate doctors who are interested to serve as Junior Residents will be allowed to join as Jr. Residents if fresh graduates are not available.
10. Number of vacant posts may vary.
11. No TA/DA shall be paid for appearing in the interview.
12. Selected candidates shall be allowed to join immediately or maximum within 07 days of issue of the offer letter failing which the offer shall stand automatically canceled. Hence, only those candidates who can join immediately need to apply.
For more details click on the original website given below.