AIIMS Raebareli Releases Vacancies For Senior Resident Post, View details for walk in interview here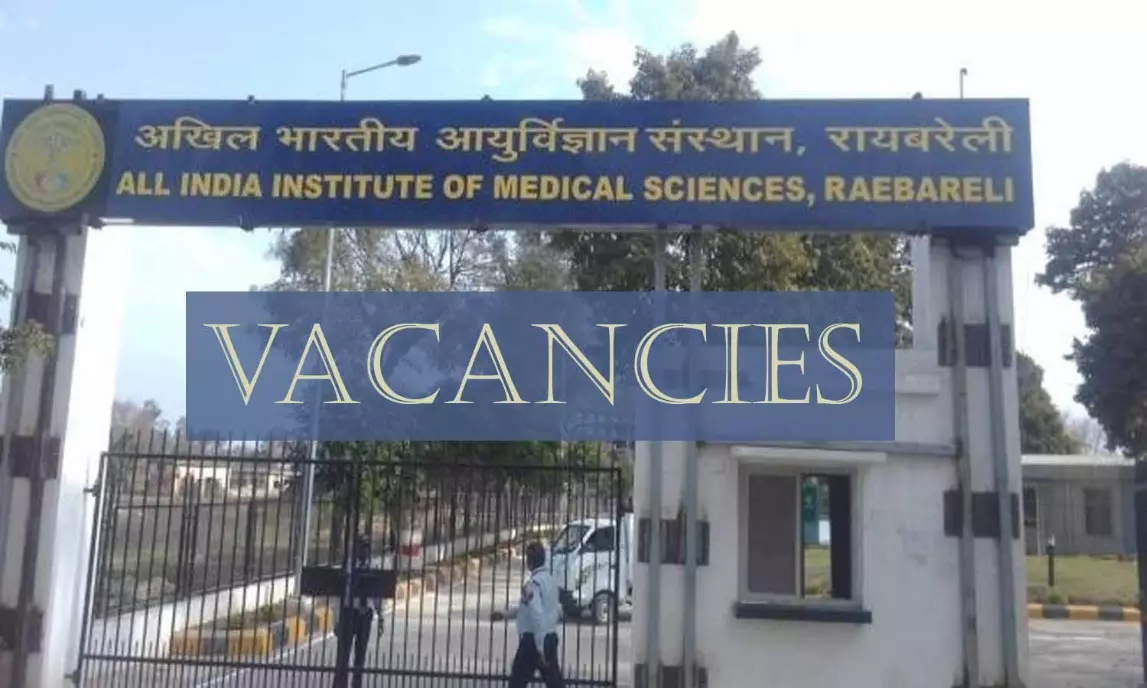 Raebareli: The All India Institute of Medical Sciences (AIIMS Raebareli), has released Vacancies for the Senior Resident post on Adhoc Basis in different specialties. The selection will be done based on Walk in interview.
AIIMS at Raebareli in Uttar Pradesh was approved in February 2009 under Phase-II of Pradhan Mantri Sawasthya Suraksha Yojana (PMSSY) at an approved cost of Rs. 823 crore. The State Government had agreed to provide 148 acres of land. A Gazette Notification was issued on 13th August 2013 for the establishment of the All India Institute of Medical Sciences at Raebareli.
AIIMS Raebareli Vacancy Details:
Total No of Vacancies: 12
The Vacancies are in the Department of - Paediatrics, General Medicine, Pathology, General Surgery, Microbiology, PMR, Blood Bank & Transfusion Medicine, Radiology, Forensic Medicine, and ENT.
Date of Walk-in-Interview - 22nd February 2021.
For more details about Qualification, Age, and Pay Allowance, and much more, click on the given link:
https://medicaljob.in/jobs.php?post_type=&job_tags=AIIMS+raebareli+Jobs&location=&job_sector=all
NOTE:
The candidates willing to appear in the above said walk-in-interview must submit their brief bio-data (in triplicate) on the proforma attached at Annexure 'A' along with a certificate of age, qualification, experience, and caste complete in all respects on 22.02.2021 at 09:00 AM in the Board Room, Medical College, AIIMS, Rae Bareli (UP) positively. The document verification will be done on 22.02.2021 from 09:00 A.M to 12:30 P.M. in AIIMS, Rae Bareli (UP) followed by an interview of eligible candidates from 02:00 P.M onwards on the same day.
What are the General Instructions?
1. The candidates must ensure that they fulfill eligibility criteria. If at any stage, it is found that the candidate has furnished any incorrect information his/her candidature will stand canceled. If any of these shortcoming(s) is/are detected even after the appointment, his/her services will be summarily terminated.
2. The candidates should bring their application/bio-data in triplicate along with all the documents/certificates in support of their claim and three photocopies of each document including passport size latest photographs.
3. All the original certificates/documents will be verified at the time of the interview.
4. The candidates having prescribed qualification/experience should appear for document verification and interview on 22.02.2021 from 09:00 AM in the Board Room, Medical College, AIIMS, Rae Bareli, Uttar Pradesh.
5. The candidates should also bring their original documents/testimonials on the date of the interview.
6. The period of experience wherever prescribed shall be counted after obtaining the prescribed qualification
Also Read:Walk In Interview At AIIMS Kalyani For Assistant Professor Post