Apply Now At Central University of Tamil Nadu for Medical Officer Post Vacancies, Details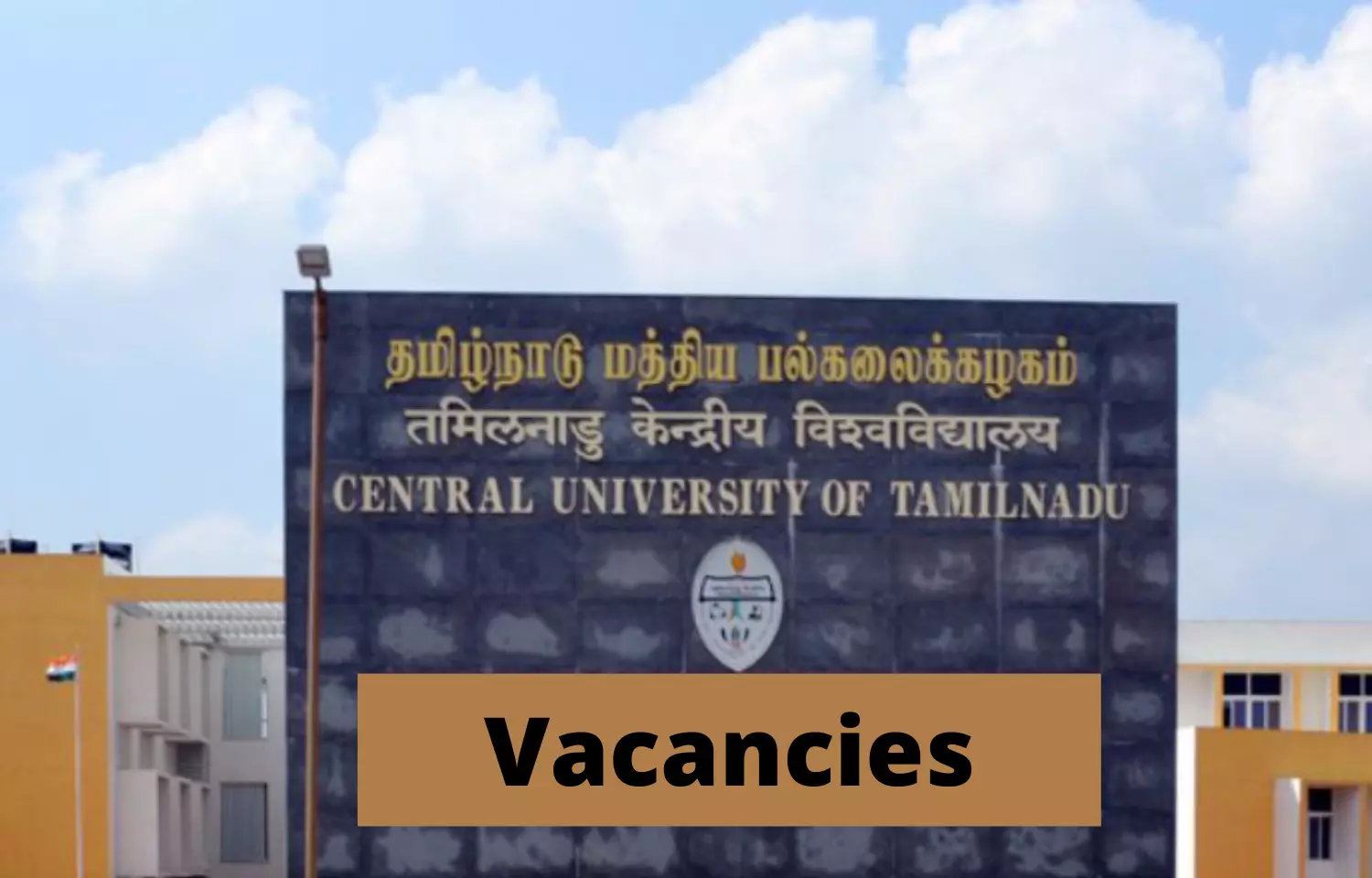 Chennai: The Central University of Tamil Nadu (CUTN) has invited applications in online mode for the Medical Officer post on temporary engagement positions for a period of 6 months.
CUTN was established by the Government of India in 2009 under the Central Universities Act, 2009. It was inaugurated in September 2009 and B. P. Sanjay has been appointed the first vice-chancellor (VC). Aditya Prasad Dash was appointed VC in August 2015. G. Padmanabhan replaced V. Krishnamurthy as Chancellor in July 2018. Karpaga Kumaravel replaced Aditya Prasad Dash as acting VC in August 2020. A selection panel for a new VC was set in October 2020 and a shortlist was submitted in January 2021 but as of June 2021, no VC was appointed. Prof. M. Krishnan has joined as new regular VC of CUTN on 6th August, 2021.

Vacancy Details :-
Total no of Vacancies - 02
The Vacancies are in the Department of - Health Centre.
Last Date of Application: 8th November 2021.
For more details about Qualification, Age, and Pay Allowance, and much more, click on the given link:
https://medicaljob.in/jobs.php?post_type=&job_tags=central+university+vacancies&location=&job_sector=all
How To Apply?
Interested candidates are advised to carefully fill in all relevant fields provided in the Application Proforma duly preferably typed in or neatly hand written and provide all relevant information pertaining to qualification, experience details, etc. Scanned copies of the duly filled in and signed application form along with all self-attested copies (soft copy) of the testimonials, converted in a single PDF file, should be sent through e-mail to lmo@cutn.ac.in on. The advertisement No.CUTN/TE/01/2020 dated 29-10-2020 stands cancelled.
What are the Terms & Conditions?
1) Selected candidate shall be paid remuneration of Rs 55,000/- per month.
2) The selected candidates will be engaged on purely temporary basis for a period of six months. The services of Medical Officer (On temporary engagement) will be terminated without notice if found unsatisfactory. Under any circumstances, candidate cannot claim any right for permanent position.
3) The number of vacancies indicated in this Notification is tentative. The University reserves the right to fill any consequential vacancies, and /or to increase/decrease the number of vacancies and make engagements accordingly.
4) Incomplete applications will be rejected.
5) Canvassing in any form or bringing of any influence, political or otherwise, will be treated as disqualification on the part of the Candidate.
6) Candidates are advised to visit the University website for updates.
7) Candidates may note that these positions are basically to meet the immediate administrative requirement of the University.Selection in this interview will not make them eligible for regular interviews to be conducted in future.
8) The Medical Officer (on temporary engagement) shall not be given the benefit of allowances, pension, gratuity, leave, etc., as admissible to the regular Medical Officers.
Note: Only the Shortlisted candidates will be called for interview
Also Read:UPSC Announces Vacancies For Ayurveda, Unani Medical Officers At AYUSH Ministry, Apply Now