APPLY NOW: COVID Only Rajiv Gandhi Super Speciality Hospital Delhi Releases 209 Vacancies For Nursing Officer Post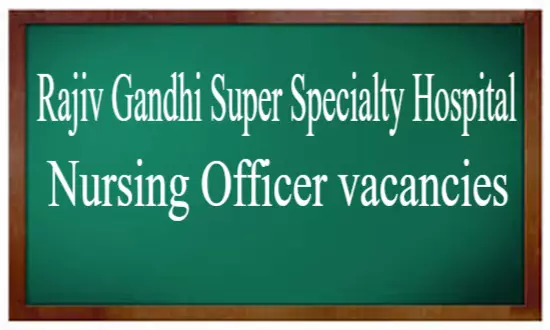 Delhi - The Rajiv Gandhi Super Specialty Hospital Delhi (RGSSH) has released 209 vacancies for Nursing Officer posts on a contract basis. The selection will be done based on the interview.
RGSSH is a 650-bed hospital with focus areas: Cardiothoracic & Vascular Sciences, Gastroenterology – GI Surgery, Rheumatology, Nephrology – Urology and Critical Care. The hospital has diagnostic services, including Laboratories, Radiology & Imaging and a Blood Bank. We are a technologically advanced institution designed to international standards and most stringent criteria in creating infrastructure and environmental guidelines. The hospital is at the forefront of cutting-edge technology.
With the rise in cases of coronavirus in the capital, Rajiv Gandhi Super Specialty Hospital has been declared as a COVID-19 only hospital, meaning that it is dedicated for treating coronavirus patients.
Vacancy Details:
Nursing Officer - 209
Last date of Application: 22nd May 2020.
For more details about Qualification, Age, Pay Allowances, and much more click on the given link:
https://medicaljob.in/jobs.php?post_type=&job_tags=RGSSH+Jobs&location=&job_sector=all
Application Procedure:
Application in respect of a specific post be sent to the assigned e-mail address only as mentioned below against each specific post. Applications received through any other mode or at any other e-mail address shall be summarily rejected.
Nursing Officer - norgssh@gmail.com
INSTRUCTIONS FOR THE APPLICANT
1. All appointments at RGSSH are on 'Contract Basis',
1. This application form MUST be neatly filled/ typed and signed by the applicant on each page of the application and only its pdf format shall be attached with the e-mail. The candidate shall ensure that all attached pdf are easily legible to be read, non legible pdf shall be duly rejected.
2. Annexure I of the application form, UNDERTAKING to be given in the main body of the email while applying for the post and its pdf copy to be attached along with the email.
3. Each page of application form be signed by the candidate and in case, if not signed by the candidate application form shall be liable to be rejected.
4. Application forms with overwriting/cuttings shall be duly rejected.
5. Attach with e-mail self-attested copies of certificates, testimonials, and other relevant documents that support your claim for your eligibility for the applied post in pdf format only. Documents attached in another format like .jpg etc will not be accepted and application form will be duly rejected.
6. In case of self-attested documents are not attached, the application will be rejected.
7. All columns MUST be completed in figures and/or in words. Fill up 'Not Applicable/Not Available' where the information is not applicable or not available; but DO not leave any column blank.
Read Also: JOB ALERT: Walk-In-Interview At ESIC Hospital Varanasi For SR, Specialist, Super Specialist Posts