APPLY NOW: UPSC Delhi Releases 175 Vacancies For Doctors At Health Ministry, Details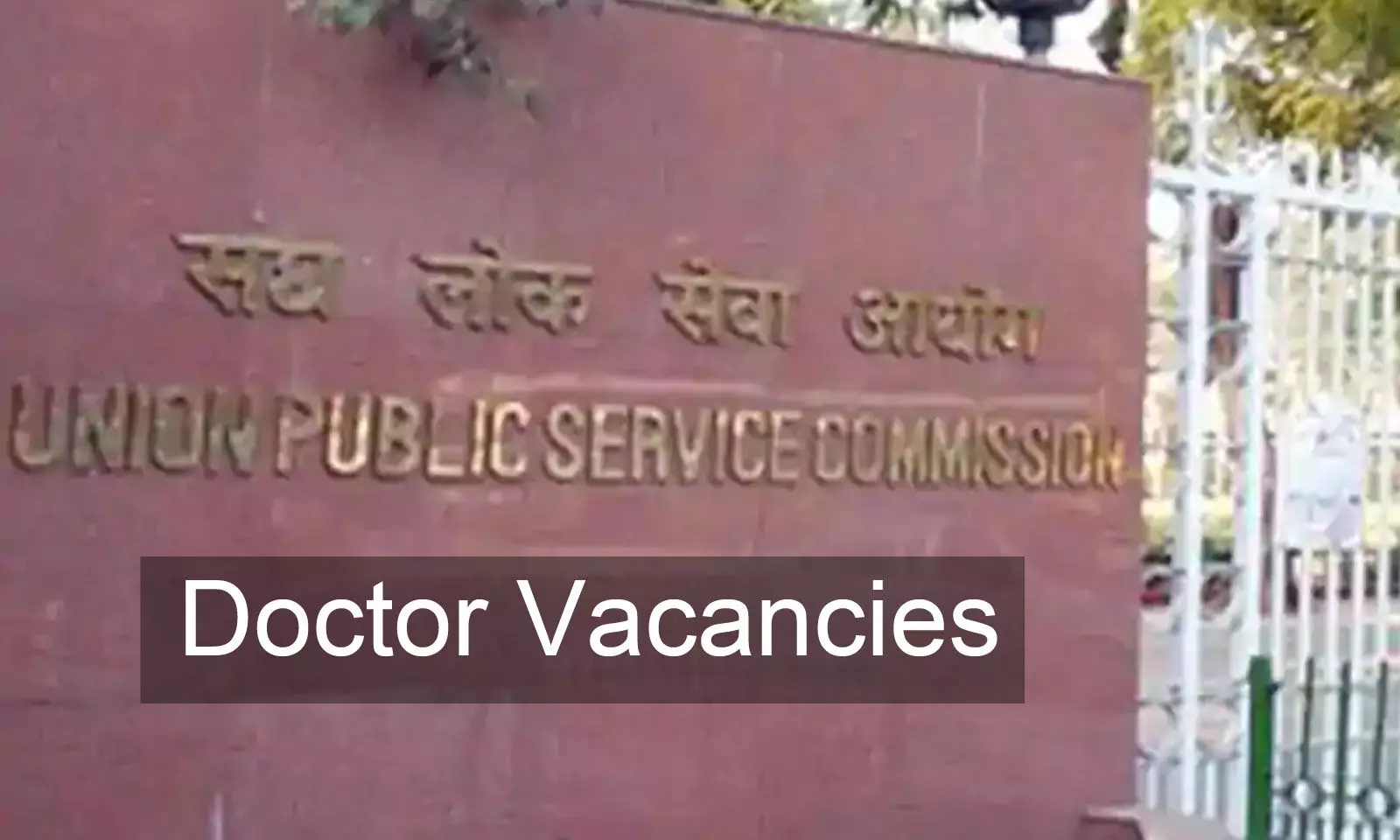 New Delhi: The Union Public Service Commission (UPSC) invited online applications for the Specialist Grade-III Assistant Professor Post in Ministry of Health and Family Welfare on a Permanent Basis. The Selection will be done based on the Interview.

UPSC is India's premier central recruiting agency. It is responsible for appointments to and examinations for All India services and group A & group B of Central services.
Vacancy Details:
Total No. of Vacancies - 175
The Vacancies are in the Department of- Anaesthesiology, Epidemiology, General Surgery, Microbiology, Nephrology, Pathology, Paediatric Nephrology, Pharmacology.
Last Date of Application: 1st October 2020.
For more details about Qualification, Age, and Pay Allowance, and much more, click on the given link:
https://medicaljob.in/jobs.php?post_type=&job_tags=UPSC+vacancies&location=&job_sector=all
HOW TO APPLY?
i) Candidates must apply online through the website http://www.upsconline.nic.i n. Applications received through any other mode would not be accepted and summarily rejected.
ii) Candidates must upload the documents/certificates in support of all the claims made by them in the application like Date of Birth, Experience (preferably in prescribed format), Desirable Qualification(s), etc. or any other information, separately against each claim in pdf file in such a way that the file size does not exceed 1 MB for the respective aforesaid modules and 2 MB for the "UPLOAD OTHER DOCUMENT" module and is legible when a printout is taken. For that purpose, the applicant may scan the documents/certificates in a 200 dpi greyscale. Documents like Pay Slip, Resume, Appointment Letter, Relieving Letter, Unsigned Experience Certificate, etc. must not be uploaded in the Document Upload Module: -
a) Matriculation/10th Standard or equivalent certificate indicating the date of birth, or mark sheet of Matriculation/10th Standard or equivalent issued by Central/State Board indicating Date of Birth in support of the claim of age. Where a date of birth is not available in certificate/mark sheets, issued by concerned Educational Boards, School leaving certificate indicating Date of Birth (in case of Tamil Nadu& Kerala).
b) Degree/Diploma certificate as proof of educational qualification claimed. In the absence of a Degree/Diploma certificate, provisional certificate along with mark sheets pertaining to all the academic years.
c) Order/ letter in respect of equivalent Educational Qualifications claimed, indicating the Authority (with number and date) under which it has been so treated, in respect of equivalent clause in Essential Qualifications, if a candidate is claiming a particular qualification as equivalent qualification as per the requirement of advertisement.
d) Certificate(s) in the prescribed proforma from the Head(s) of Organization(s)/Department(s) for the entire experience claimed, clearly mentioning the duration of employment (date, month & year) indicating the basic pay and consolidated pay. The certificate(s) should also mention the nature of duties performed/experience obtained in the post(s) with duration(s). Experience Certificate should be issued in a prescribed format relevant to the post. An experience certificate not in prescribed proforma but containing all the details as mentioned above would be considered on merits by the Commission.
e)Caste certificate by candidate seeking reservation as SC/ ST/ OBC, in the prescribed proforma from the competent authority indicating clearly the candidate's Caste, the Act/ Order under which the Caste is recognized as SC/ ST/ OBC, and the village/ town the candidate is ordinarily a resident of.
f) A declaration in the prescribed format by candidate seeking reservation as OBC, that he/she does not belong to the creamy layer on the crucial date, in addition to the community certificate (OBC). Unless specified otherwise, the prescribed closing date for receipt of the Online Recruitment Application for the post is to be treated as a crucial date.
g) Physically Handicapped certificate in prescribed proforma issued by the competent authority by Physically Handicapped persons eligible for appointment to the post on the basis of prescribed standards of Medical Fitness. The Competent Authority to issue a Physically Handicapped certificate shall be a Medical Board duly constituted by the Central or a State Government. The Central/ State Government may constitute Medical Board(s) consisting of at least three members out of which at least one shall be a specialist in the particular field for assessing Locomotor/ Cerebral / Visual / Hearing disability, as the case may be.
h) Documentary support for any other claim(s) made.
Note: If any document/ certificate furnished is in a language other than Hindi or English, a transcript of the same duly attested by a Gazetted officer or notary is to be uploaded.
Also Read:APPLY NOW: UPPSC Releases 316 Vacancies For Assistant Professor, Allopath Medical Officer Posts