Bhagat Phool Singh Govt Medical College Haryana Releases 143 Vacancies For Specialist and DMO Posts At COVID 19 Hospitals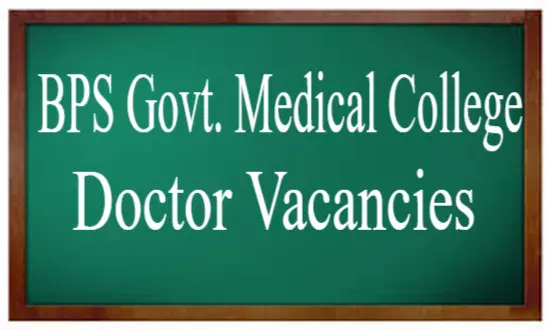 Haryana - The Bhagat Phool Singh Govt. Medical College (BPSGMC) has released 143 vacancies for Specialists and Duty Medical Officer posts on a contract basis. The selection will be done based on the interview.
BPSGMC owes its existence and location to a social reformer born on 24th Feb, 1885 as Harphool Singh (later Christened Bhagat Phool Singh) in Village Mahara in the state of Haryana to a family of Malik Jats, who were peasants. He was appointed Patwari, a most coveted position of those times, and posted at Seenkh Pathri village in Panipat in 1904, at the tender age of 19.
With the rise in cases of coronavirus in the Haryana, Bhagat Phool Singh Govt. Medical College has been declared as a COVID-19 only hospital, meaning that it is dedicated for treating coronavirus patients.
Vacancy Details:
Total no of Vacancies- 143
Specialists - 43
The Vacancies are in the Department of - Anesthesia, General Medicine, Chest & TB, Critical Care (ICU), and Radiology.
Duty Medical Officer - 100
Last date of Application: 13th May 2020.
For more details about Qualification, Age, Pay Allowances, and much more click on the given link:
https://medicaljob.in/jobs.php?post_type=&job_tags=BPSGMC+vacancies&location=&job_sector=all
Application Procedure:
The prescribed application form along with terms & conditions & eligibility Criteria can be downloaded from the website of college i.e. www.bpsgmckhanpur.ac.in which must be accompanied by a Demand Draft /College receipt of Rs. 500/-(Rs. 250/-for Female for General Category & Male of Reserve candidate and Rs. 125/-for Female Reserve candidate Haryana Domicile only) in favor of Director, B.P.S. Govt. Medical College for Women Khanpur Kalan Sonepat payable at Gohana. Haryana.
The date of the interview schedule shall be displayed on the website www.bpsgmckhanpur.ac.in. No separate letter will be sent by post, hence the applicant's arc advised to visit the college website regularly.
Read Also: JOB ALERT: DME Andhra Pradesh Releases 1070 Vacancies For Specialist Posts At COVID 19 Hospitals