JOB ALERT: AIIMS Jodhpur Releases 118 Vacancies For Senior Resident Post, Apply now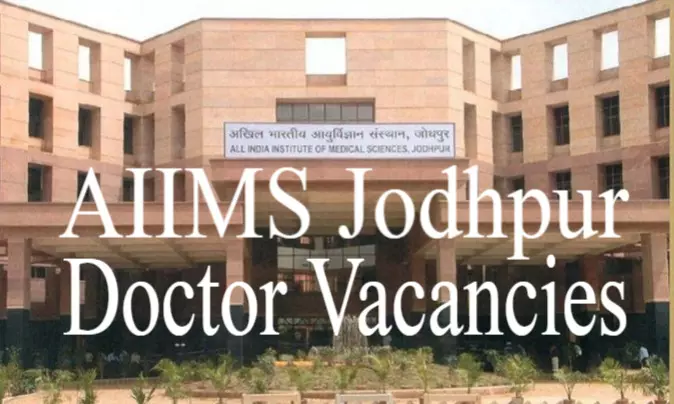 Jodhpur: The All India Institute of Medical Sciences (AIIMS Jodhpur) has released 118 Vacancies for the Senior Resident post in 25 Specialities on Contract Basis. The selection will be done based on Written and interview.
AIIMS Jodhpur is one of the 6 new AIIMS established by the Ministry of Health & Family Welfare, Government of India under the Pradhan Mantri Swasthya Suraksha Yojna (PMSSY) to correct regional imbalances in quality tertiary level healthcare in the country and attain self-sufficiency in graduate and postgraduate medical education.
AIIMS Jodhpur Vacancy Details:
Total No of Vacancies: 118
The Vacancies are in the Department of - Anaesthesiology and Critical Care, Anatomy, Biochemistry, Cardiothoracic Surgery, Community Medicine and Family Medicine, Dermatology, Interventional Radiology, Forensic Medicine & Toxicology, Gastroenterology, General Medicine, General Surgery, Microbiology, Nuclear Medicine, Obstetrics and Gynaecology, Orthopaedics, ENT, Paediatrics, Pathology, Pharmacology, Physical Medicine and Rehabilitation, Psychiatry, Radiotherapy, Transfusion Medicine and Blood Bank, Trauma & Emergency (Medical), and Trauma & Emergency (Surgical).
Last Date of Application: 10th February 2021.
For more details about Qualification, Age, and Pay Allowance and much more, click on the given link:
https://medicaljob.in/jobs.php?post_type=&job_tags=AIIMS+Jodhpur+Vacancies&location=&job_sector=all
NOTE
1. Candidate can apply for these posts through online registration of application on AIIMS, Jodhpur website: www.aiimsjodhpur.edu.in w.e.f. 09th January 2021 as per the terms & conditions mentioned therein. The last date for applying for the post of Senior Residents is 10th February 2021 (1700 Hrs).
2. Candidates should not send a hard copy of the online application or any document thereof.
3. The above vacancies are provisional and subject to variation. The Director, AIIMS, Jodhpur reserves the right to vary the vacancies including reserved vacancies as per the Govt. of India rules/circulars and requirements.
4. Reservation will be as per Government of India Policy.
PROCESS OF SELECTION:
1. The Candidate can apply in one department only.
2. Selection will be on the basis of MCQ based written examination and Interview.
3. The selection criteria for MD/MS, DNB, DM/M.Ch, M.Sc/Ph.D candidates.
a). 40% weightage – Written Examination (MCQ based)
b). 30% weightage – Academic Record
c). 30% weightage – Interview
4. Candidates will be called for an interview in the ratio of 1:6 i.e. for one post, only six candidates will be called for the Interview.
5. List of Eligible candidates for Interview / MCQ based Written Examination will be uploaded on website www.aiimsjodhpur.edu.in. Candidates are advised to check the Institute website regularly for information related to the interview/screening exam.
6. List of the selected candidates will be uploaded on the website www.aiimsjodhpur.edu.in. Candidates are advised to check the Institute website regularly.
7. The waiting list will be valid till 06 months from the date of result or next interview, whichever is earlier.