Walk-In-Interview At AIIMS Raipur For Assistant Professor Post In Various Departments, Details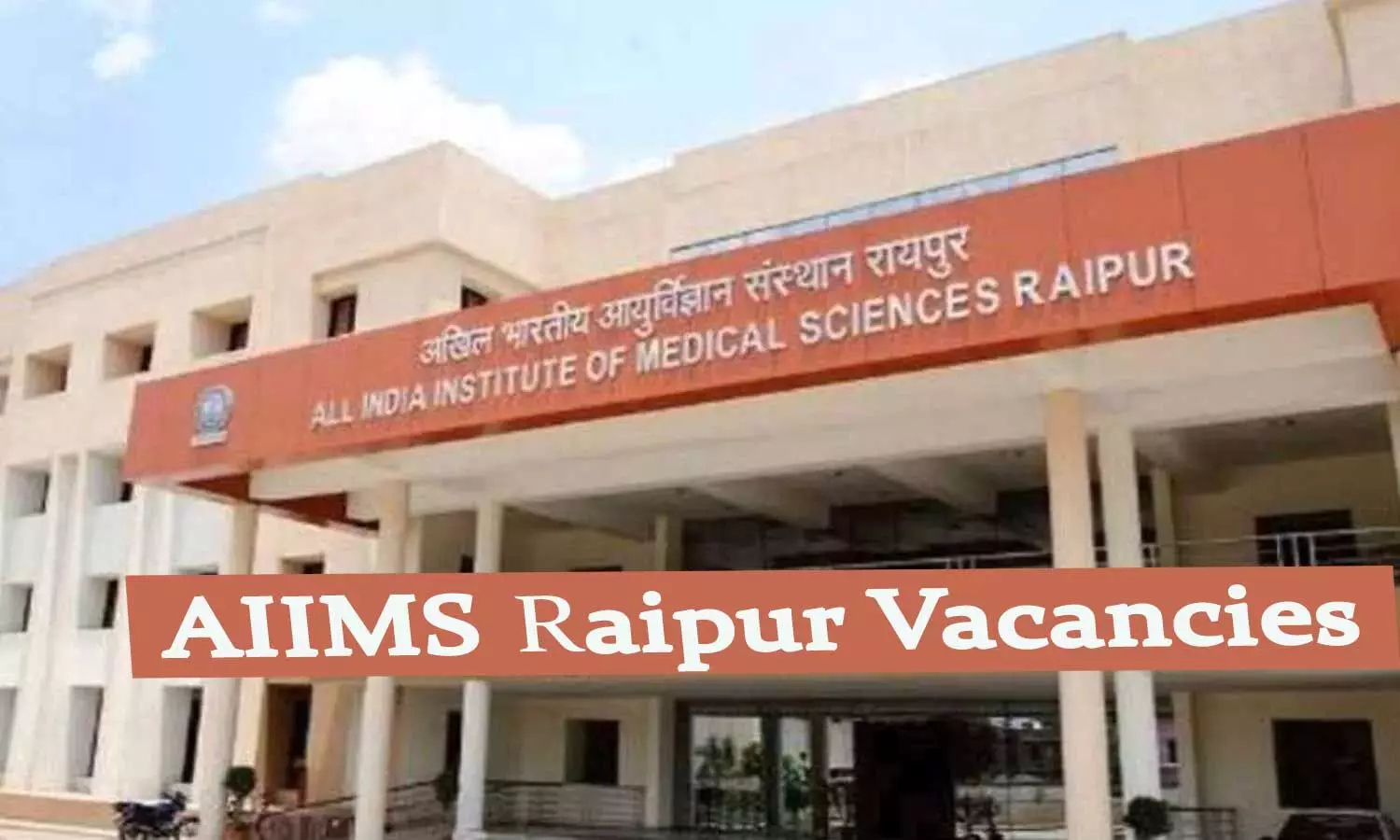 Raipur: The All India Institute of Medical Sciences, (AIIMS Raipur) has released 08 Vacancies for the Assistant Professor post on Contractual Basis. The selection will be done on the basis of Walk-In-Interview.

AIIMS Raipur is an apex healthcare institute, established by the Ministry of Health and Family Welfare, Government of India under the Pradhan Mantri Swasthya Suraksha Yojna (PMSSY) with the aim of correcting regional imbalances in quality tertiary level healthcare in the country and attaining self-sufficiency in graduate and postgraduate medical education and training.
Vacancy Details:
Total no of Vacancies- 08
The Vacancies are in the Department of - Gastroenterology, Medical Oncology / Haematology, Nuclear Medicine, Surgical Gastroenterology, and Surgical Oncology.
Date for Walk in Interview: 27th September 2020.
For more details about Qualification, Age, and Pay Allowance, and much more, click on the given link:
https://medicaljob.in/jobs.php?post_type=&job_tags=AIIMS+raipur+vacancy&location=&job_sector=all
What are the Terms & Conditions?
1. Interview will be conducted in person as well as through video conferencing.
(i) Confirmation should be sent by all applicants before 20.09.2020, by email at recruitment@aiimsraipur.edu.in with a subject line "Confirmation of participation in walk-in-interview for recruitment to the post of Assistant Professor on contractual basis in the department of ……………….. on 27.09.2020"
(ii) Candidates are also directed to mention whether they will be appearing in person or through video conferencing.
(iii) Candidates are also directed to send the scan copy of the duly filled application form and Annexure-I along with proof of date of birth, eligibility qualification mark-sheets, degrees, experience certificate, caste certificate, and other relevant testimonials in a single PDF file via email. Applications lacking complete information are liable to be rejected without any further communication.
2. Candidates who wish to appear in person are required to report at Committee room, 1st Floor, Medical College Building, Gate No. 05, AIIMS Raipur, G. E. Road, Tatibandh, Raipur – 492099, Chhattisgarh. Reporting time will be 10:30 am to 11:00 am. Candidates reporting after 11:00 am, will not be entertained.
3. Candidates who wish to appear through video conferencing are directed to mention their contact number with skype ID. Candidates will be informed about the time of the interview on the day of the interview. A prior intimation will be required from the candidate regarding their confirmation of participation in the Walk-in-Interview.
4. Interviews may be spilled over to the next day. Therefore, candidates should be available for the next day also, if necessary.
5. Age and all other qualifications will be counted as on the date of the Interview.
6. The above vacancies are provisional and subject to variation. The Director, AIIMS, Raipur reserves the right to vary the vacancies including reserved vacancies as per the Govt. of India rules/circulars and requirements. The reservation will be followed as per Government of India Rules.
7. The applicants applying in response to this advertisement should satisfy themselves regarding their eligibility for the aforesaid post and must fulfill all the eligibility criteria on or before the date of the interview, failing which their application will be rejected.
8. Candidates are required to bring the following documents in Original and a set of photocopy duly self-attested:
I. Printout of the application form.
II. Mark sheets and degrees.
III. Proof of Age.
IV. Caste Certificate ST/SC/OBC (In the prescribed format as per GoI norms).
V. Experience Certificate.
VI. NOC (No Objection Certificate) for those Candidates who are working
in Govt. Organization.
VII. Two passport size Photographs.
VIII. Any other relevant documents.
9. Candidates who wish to apply for more than one post should apply separately for each post and pay the application fee for each post and submit hard copies separately for each post.
10. The reservation for ST/SC/OBC candidates is as per Central Govt. rules and 4 % for PWD candidates (on a horizontal basis). For OBC Candidate: Candidates must attach a certificate valid for the posts under the Central Government of India which mentions that the Candidate does not belong to Creamy Layer. The date of issue of the Certificate should not be earlier than 1 year from the last date of submission of the online Application Form. For SC, ST, and OBC – Certificate should be issued by Tehsildar or above rank authorities prescribed by Govt. of India in the format of State/Central Government.
11. Application fee: Rs. 1,000/- for General/OBC category and Rs. 800/- for SC/ST to be paid in favor of "AIIMS Raipur" payable at Raipur by way of Demand Draft/Banker"s Cheque at the time of Walk-in-Interview. The Application fee is non-refundable. The application fee is exempted for PwD category.
12. Those who are working in Central/State Government/Semi-Government/ Autonomous Institution must submit a "NO OBJECTION CERTIFICATE" from the employers at the time of the Interview.
13. Self Attested photocopies of Degrees, Certificates, Mark sheets, Age proof, Caste Certificates, etc. may be annexed with the copy of the application form and the same shall be produced in original along with photocopy for verification at the time of the Interview.
14. Candidates appearing for interview will have to produce all relevant original documents in proof of details furnished in their application at the time of interview.
15. The Interview will be held in Raipur only at All India Institute of Medical Sciences, Tatibandh, G.E. Road, Raipur (C.G.) 492099. No TA/DA will be paid for appearing in the Interview.
16. Canvassing of any kind will lead to disqualification. The prescribed qualification is minimum and mere possessing the same does not entitle any candidate for selection.
17. If an appointee wishes to apply somewhere else or resign within the first 03 (three) months of joining, then he/she will not be issued the No Objection Certificate (NOC)/ Relieving Letter or Experience Certificate.
18. The candidate should not have been convicted by any Court of Law.
19. The selected candidate is expected to conform to the rules of conduct and discipline as applicable to the institute employees.
20. In case of any information or declaration given by the candidate is found to be false or if the candidate has willfully suppressed any material information relevant to this appointment, he/she will be liable to be removed from the service and any action taken as deemed fit by the appointing authority.
21. The decision of the competent authority regarding the selection of candidates will be final and no representation will be entertained in this regard.
22. Incomplete applications in any aspect will be summarily rejected.
23. The Competent Authority reserves the right of any amendment, cancellation, and changes to this advertisement as a whole or in part without assigning any reason or giving notice.
24. AIIMS Raipur reserves the right to increase or decrease the number of vacancies.
25. All disputes will be subject to the jurisdiction of the Court of Law at Chhattisgarh.
26. Appointment of selected candidates is subject to his/her being declared medically fit by the competent Medical Board.
27. In case of any inadvertent mistake in the process of selection which may be detected at any stage even after the issue of appointment letter, the Institute reserves the right to modify/withdraw/cancel any communication made to the candidate.
28. The applicant will be responsible for the authenticity of submitted information, other documents, and photographs. Submission of any false and/or suppression/concealment of facts shall lead to rejection/cancellation of the selection/recruitment of the applicant.
29. No correspondence/queries will be entertained from candidates regarding the conduction and result of interview and reasons for not being called for the interview.
30. In case of any assistance or clarifications regarding the recruitment, please contact us on E-mail: recruitment@aiimsraipur.edu.in or call on 0771-2577267.
31. For any updates please regularly visit the Institute website i.e. www.aiimsraipur.edu.in.
Also Read:APPLY NOW: UPSC Delhi Releases 175 Vacancies For Doctors At Health Ministry, Details