Jodhpur: District CMO, AIIMS technician arrested for sex determination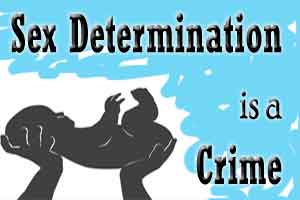 Jodhpur: Busting a sex determination racket, district authorities have arrested the Chief Medical Officer ( CMO ) of the Balesar block as well as his agent, who was working as a lab technician at AIIMS, Jodhpur after catching them red handed with the help of a decoy patient.
Claiming that the activities of the two had been going on for years, the district authorities informed TOI that they had been keeping an eye on the CMO Imitiyaz for the past six months, waiting to find the agent. "Once we tracked his agent Bheru Singh, we set the trap," ASP Raghuveer Singh, project director, PCPNDT cell said.
It is reported that the BCMO Mohammad Imtiyaz was charging Rs 25,000 per sex determination, of which, he would give Rs 5000 to Behru Singh. The lab technician on the other hand was responsible for getting cases from nearby areas.
"Bheru Singh has connections in Jaisalmer, Jodhpur as well as in Barmer districts.He would bring clients from these districts on a regular basis," Singh said. The technician had installed sonography machines at his house in Jodhpur and would take clients to this place, where Imtiyaz conducted the tests.
 The duo was arrested on Friday night, and taken to police custody for further interrogation
Meanwhile AIIMS Jodhpur upon information, has terminated the services of Bheru Singh, who had been employed with the institute as a lab technician on contract basis for the past three years.
TOI further adds that interestingly, Imtiyaz's father Niyaz Mohammad has also been arrested thrice for conducting sex determination tests. He was caught as recently as August 2016 with the help of IT experts and sonography machines were seized from his place.