Kanpur Doctor throws shoe at BJP leader during press conference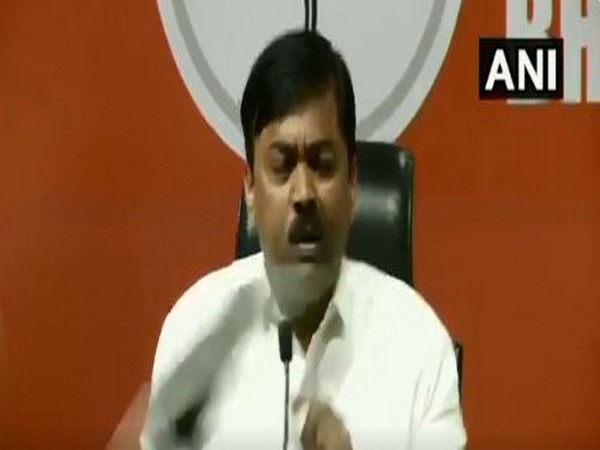 New Delhi: A doctor has been detained for throwing a shoe at BJP leaders addressing a press conference at the party's headquarters here today.
The doctor has been identified as one Dr Shakti Bhargava who is reported to be facing inquiries by the Income Tax department in connection with buying properties, undisclosed income and unaccounted money. He is the controller of Bhargava Hospital and many other companies.
According to IANS, he hurled a shoe at Bharatiya Janata Party (BJP) spokesperson and Rajya Sabha MP G.V.L. Narasimha Rao when the latter was addressing a press conference about Malegaon blast accused Sadhvi Pragya Singh Thakur joining the BJP, at the party's national headquarters.
The shoe narrowly missed the BJP leader and hit a mic. Incidentally, the shoe came flying towards Rao just when he was attacking the Congress for opposing the nomination of Sadhvi Pragya as BJP's Lok Sabha candidate from Bhopal, saying that there were no charges against her.
Just after the incident, the doctor immediately bundled out by security guards at the party office and will be handed over to police.
"Shakti Bhargava, who has been detained, told interrogators that he recently met with a huge property loss and wanted media attention for which he attacked the BJP leader," a senior police officer said, adding that the person was being interrogated by the special cell of Delhi Police.
Delhi Police confirmed News 18 that Dr Bhargava, owner of Bhargava Hospital in Kanpur, had faced income tax raids in 2018 over purchase of three bungalows. The alleged transaction, according to sources, was worth a total of Rs 11.50 crore. Money was allegedly paid for the bungalows from Shakti Bhargava's accounts but they were bought in the names of his wife and children.
The police had also investigated the matter from the angle of violation of the Benami property rules. According to Delhi Police, Bhargava had not been able to tell the source of the income for the amount used to purchase the bungalows.
The Income Tax Department had then also found Rs 28 lakh cash and Rs 50 lakh worth of jewellery at the doctor's house.
At present, Shakti Bhargava has been taken to the IP Estate Police Station for hurling shoe at GVL Narasimha Rao. Shakti Bhargava's Facebook posts suggest that he is a vocal critic of the Narendra Modi government, reports
India Today
.