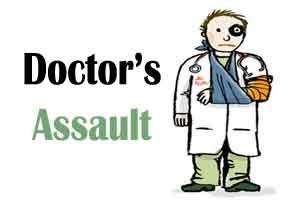 Another report of a man assaulting a doctor is now doing rounds in the medical circles, this time after a reported incident in Karnataka. The Mandya Institute of Medical Sciences (MIMS) recently witnessed an incident of this nature at its premise.
The man, who was alleged to have been in an inebriated state, was ironically brought to the hospital for treatment, after he was found drunk and injured in a public place. However, the whole episode took an ugly turn when the patient allegedly attacked the medical resident doctor on duty (attending to him). He is also reported to have vandalized the hospital property, during the incident.
The accused in this case has been arrested after a police complaint was filed by the doctor who was attacked by his patient (also the accused in this case). The broad charges filed against him include violence against medical personnel and damage to the property.
As reported by Hindu on the matter, Tension prevailed on Monday night at the Mandya Institute of Medical Sciences (MIMS) after a man, allegedly drunk, assaulted a doctor and vandalised the hospital.
According to the Mandya West police, some people found Pradeep (30) from Alakere asleep in a public place. He was also injured and in an inebriated state. They brought him to MIMS at 7.15 p.m. While being treated, Pradeep attacked Sanjay, resident medical officer, and damaged some of the glass doors in the hospital.
Dr. Sanjay then alerted the police, who arrested Pradeep. A case has been filed under various sections of the Indian Penal Code and the Karnataka Prohibition of Violence against Medicare Personnel and Damage to Property in Medicare Service Institution Act 2009.
0 comment(s) on Karnataka: Doctor assaulted by a drunken man