Karnataka governor concerned over expensive medical education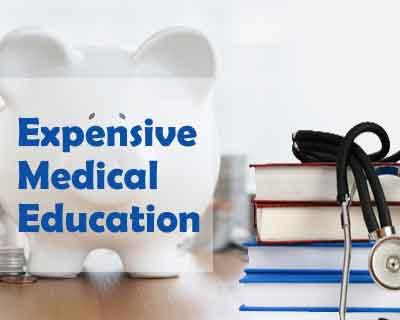 Karnataka Governor Vajubhai Vala, who served for 20 years as finance minister in the Keshubhai Patel and the Narendra Modi governments in Gujarat, rued high donations had become the order of the day in the medical education system in Gujarat and the country.
Vala, who was the speaker of the state assembly when he was shifted to Bengaluru as the governor after Modi took over as prime minister, castigated the administrative machinery over huge donations demanded by the private medical colleges in the state and other parts of the country.
"A person has to pay a minimum of about Rs.1 crore donation to get admission in the private medical colleges. After paying such huge donations, how do you expect such doctors to go to the rural areas and serve the poor?
"He will naturally be concerned about first raising the money his father has spend in donation to make him a doctor," he said.
The Karnataka governor was in Rajkot, his home town, to attend the 50th foundation day celebrations of the Saurashtra University. State Higher Education Minister Bhupendrasinh Chudasma, who was also present kept mum over the issue.
The situation, Vala said, was still worse in the post-graduate medical courses. "For MD courses, the donation demanded for admission is as high as Rs.2 to 5 crore. One cannot expect such doctors to serve the society when they have to spend a fortune to acquire the qualification," he lamented.
Chudasma did not respond to the issues raised by Vala but answered the media persons about the burning issue of fee hike by the private schools in the state. Clashes between the private school managements and parents have become almost a routine affair in the schools and colleges in the state every year as the school authorities indiscriminately hike fees without any prior notice.
He said the government was planning to issue an administrative order on the private schools restricting them from hiking fees beyond a certain level without consulting the parents associations. "The government is seized with the matter and a notification to this effect is expected to be issued soon," he said.