Karnataka Government to suspend 2,108 medicos including 804 doctors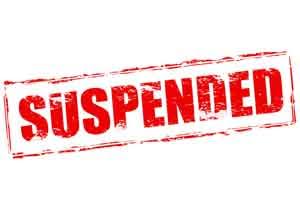 State government announces Suspension Drive to check Absenteeism 
Bengaluru: In a move to check absenteeism in the health sector,  the state government has announced its move towards suspension of 2,108
medicos
including 804 doctors and 1304 nurses, paramedical staff, lab technicians and other staff members, working in government hospitals. This comes after the staff  failed to report to their duties even after being served with notices . Health and Family Welfare minister K R Ramesh Kumar has announced directions in the matter, reports 
The Indian Express
.
Kumar quoted that these staffers did not report to duty even after notices served, citing reasons as transfer. On being asked about the filling up of vacancies, created as a result of the suspension drive, Kumar said that steps are being initiated regarding that also.
Apart from  the suspension move, there have been other important issues that the Health Ministry has taken up. These include functioning of private hospitals in the state and their regulation, installation of more facilities in Taluk hospitals, improvisation of diet for patients and their care takers and ambulance facilitation.
Government take on Private Hospitals, Taluk hospitals and facilities…
The Health Ministry has also proposed a bill for the regulation of private hospitals and improving facilities  within government hospitals in the state.
A report has been sought from a committee formed  by the government within eight weeks, said Ramesh Kumar. The report is expected to include information on functioning of the private hospitals as well as measures to regulate them to protect the interest of the public. The constituted committee is headed by retired Chief Justice Vikramjit Sen.
The final bill will come out after the report from the constituted committee is submitted. Suggestions in the report will be included in the bill.
The deciding panel will have members from the health department, private hospitals, civil society and the legal fraternity.
Private hospitals which come under the purview of Karnataka Private Medical Establishment (KPME), Act, 2007, have been proposed by the government to be brought under the watch of Central-level Clinical Establishment Act (CCEA). This will enable efficient regulation of these hospitals.
Kumar has also assured the introduction of post-graduate degree and diploma courses in all government medical colleges soon by the next academic year. Rural candidates will be given preference in admissions.
Other improvisations will include provision of 367 new ambulances, introduction of Jan Aushadi' fair price pharma stores in 200 hospitals all over the state, setting up of dialysis units in 146 more taluk hospitals.
ICU will be set with a three bed utility at all the Taluk hospitals. The total amount allotted for each ICU will be Rs. 27 lakh, 15 lakh of which will be drawn from the respective local MLA constituency development fund.
At every 15 Km, ambulances will be stationed at PHC's and CHC's or Gram panchayat HQ.
Concerning meals, the government has affirmed that all the government hospitals in the state will meet the needs of nutritious food at affordable prices for patients and their care takers.
Construction of well-equipped canteens will be done in all districts and Taluk hospitals. They will start  functioning  from 1
st
January 2017. Local Stree Shakti self-help groups will run  the canteens.
The Minister assured that hospitals will also be equipped with clean drinking water units.
 Read Also: Karnataka Government hospitals to install barber shops within premises