Keonjhar: Female AYUSH doctor assaulted by police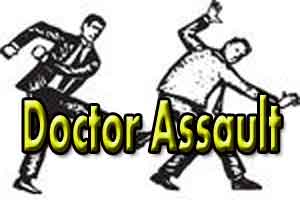 Keonjhar: In a shocking incident, a lady doctor Dr Sanjukta Giri was allegedly thrashed in front of Turumunga Police Station in Keonjhar recently by police on alleged account of not producing driving license during vehicle checking drive.
The victim was identified as Dr Sanjukta Giri who has been working as an Ayush doctor in Singada Primary Health Centre (PHC) in Mayurbhanj district.
According to a recent media report, Dr Giri was returning home from the duty in a two-wheeler, and apparently crossing the front of the police station between 12 pm to 1 pm. Despite wearing a helmet she was allegedly stopped by a lady Assistant Sub-Inspector of Police (ASI) after which she was asked to give her driving license and other related documents.
 OrissaPost recounts that the documents were not immediately available to her. The doctor asked the cops to wait as she had to call her father to get the required documents. The ASI did not listen to her request and allegedly attacked and misbehaved along with other lady constables in full public view. Post the incident, Dr Giri received injuries on her neck and chest.
Soon after the incident took place, OrissaPost tried to connect with the ASI, she was not available to give her comment.
"The police personnel asked for the documents but my driving license was at my home. They started thrashing me after I denied giving them Rs 100 that they asked from me", Dr Sanjukta Giri informed Odishatv.
When Suresh Chandra Patra, Keonjhar DSP (Crime) was contacted to talk on the matter, he told the daily "The woman, while being searched accepted that she did not have one of the documents. She argued with the officials after she was asked to pay necessary fine of Rs 100."
After the alleged incident, the doctor lodged a written complaint at Turumunga police station in the district adds Odishasuntimes. Meanwhile, the police have launched an investigation into the incident