Kerala: Lady Doctor attacked at Kottarakara Government Hospital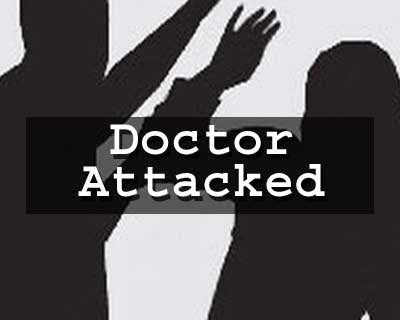 Kerala: A recent incident of a lady doctor attacked by the relatives of a patient has left the doctors infuriated. The rising number of such cases has only led to the Kerala Government Medical Officers Association (KGMOA) and the Indian Medical Association (IMA) demanding better protection for doctors in the state.
The reported incident happened at the Kottarakara Government Hospital. The doctors here are now demanding action against the relatives of the patient who attacked in the scene.
In the alleged incident, a nine-month pregnant woman-Shahida was admitted to the hospital, and reportedly died later. The relatives have alleged a case of medical negligence as they feel she was in a perfect condition when she was brought to the hospital. She reached the hospital on foot, as claimed by the relatives. As they alleged, she died because of lapse on the part of the lady doctor, who was in-charge of the OT at that time.
Hospital Protection Act with sufficient security staff, police help and CCTV deployment has been enforced by the KGMOA president Dr V Madhu and General Secretary Dr A K Raoof in all hospitals.
A media report on the matter implied that the cause of the death is the alleged 'amniotic fluid embolism or 'injection anaphylaxis due to cefotaxim. The KGMOA leaders, to endure safety of for treatment are now seeking the suspected injection's complete withdrawal. The 'injection anaphylaxis' is suspected to have created complications in the past, in many hospitals. The doctors, in turn, have to face the wrath of the relatives, if the patient dies during the treatment.
IMA state president Dr A V Jayakrishnan and general secretary Dr Samuel Koshi have also implied that doctors in the state might just go on a mass agitation over the arrest to be made in the present case. If the assailants are not arrested and the issue of protection of medical professionals not handled, they will be forced to go on an agitation.