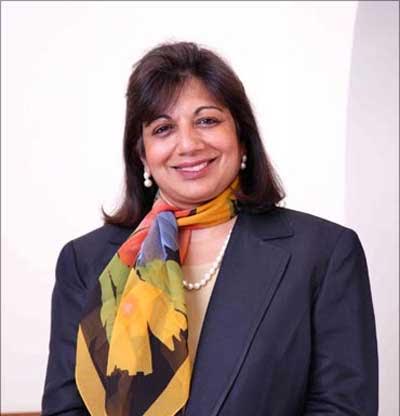 In a recent interview with daily ZoomTV, Kiran Mazumdar Shaw, the chairman and managing director of Biocon Limited, was seen slamming Medical Council of India (MCI) for its negative role in medical education, which is hampering the growth of healthcare system in the country.
"We need to change our medical education. Medical Council of India has been really playing a very negative role in the way medical education is being evolved, by controlling capacity. I think it has been a very unethical and corrupt system. It needs to be broken," she stated
"Thankfully now, due to NEET, some of it (corruption) in medical education, at the entry level is being broken."  She further spoke about this being extended to PG level, where the most important thing according to her was creation of seats such that at least 30,000 of the 50,000 graduating MBBS students per year have a chance to become specialists. Ms Shaw stressed on huge shortage of qualified medical professionals as well as support staff in the country highlighting the challenges that the country is facing to meet the goals set be the National Health Policy, especially the target of 2 beds per 1000 population.
"There is huge shortage of hospitals, as if we calculate, 2 beds per 1000 population means that we actually short of 2 million hospital beds. Apart from the hospital shortage, there is shortage doctors, nursing and other human resource shortage as well. Add to the fact that we have huge shortage of specialists."
Stating that the National Health Policy as a starting point to meet the challenges of the health sector, further calling for increased private participation in the health sector.
" If you want to basically create the 2 million hospital beds, the private sector will need to create it, but it is bit of a vicious circle that the private sector is not going to invest in creating those 2 million hospital beds. It needs a reimbursement mechanism that makes viable (to invest in hospitals)."
"Today, the hospital sector, although the finance ministry has categorized with an infrastructure status, in reality, it does not enjoy the low interest, long term lending that the infrastructure sector enjoys. If you don't do that, if you don't implement it, there is going to be no investment in the hospitals."
Calling for better alignment between policy makers, regulators and the stake holders for soling issues, she said "It is a daunting challenge for a country like India, but it is not impossible"
LIVE: @kiranshaw In Conversation with @govindethiraj On India's 3 Big #Healthcare Challenges @periscopetv @T https://t.co/g64EyTW2GB

— BOOM (@boomlive_in) March 21, 2017
See the Interview at : http://www.boomlive.in/mci-corrupt-unethical-system-needs-to-change-kiran-mazumdar-shaw/
10 comment(s) on Medical Council of India Unethical, Corrupt : Kiran Mazumdar Shaw