Kochi: Human Rights Commission Pulls up Govt on AIIMS Kochi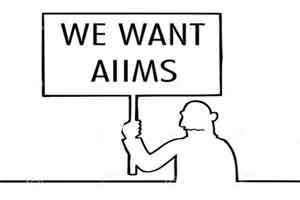 The State Human Rights Commission (SHRC) has pulled up the state and union governments to take a quick decision on AIIMS Kochi. The news concerns of a timely call to address the demand of setting up AIIMS in Ernakulam, Kochi.

The issue came to highlight after a petition files by Raghu Johny. The petition reads that there is a need for a premier health institute like AIIMS in Ernakulam. The district is a central part of the state, and people across will benefit from its services. The current public healthcare infrastructure is also in the capital of the state, which makes it difficult to access for everyone.

As reported by TOI, Commission chairperson Justice J B Koshy sent the directive to chief secretary and cabinet secretary asking them to make a study on it. His directive was based on a petition filed by one Raghu Johny.

In his petition, Raghu complained that though the regional cancer centre and Sree Chitra Thirunal Institute for Medical Sciences function in Thiruvananthapuram, people across the state do not get its services as both firms are in the capital. AIIMS comes in Ernakulam, which is situated at the central part of the state, people across the state will benefit.