................................ Advertisement ................................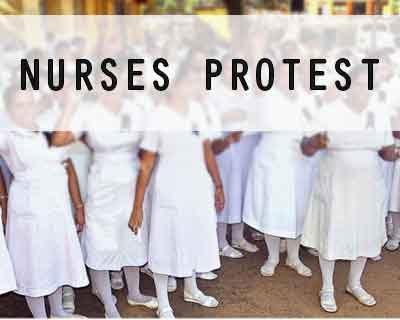 Kochi:The Government Medical College, Ernakulam nurses staged a protest demonstration in front of the college on Monday, against shortage of nurses for night duty. They also submitted a memorandum for the same, to the college Principal. Their major woe has been cited as extra night duties eating into their duty off's , after a night shift.
In an hour and a half's dharna, the nurses said though many problems remained unresolved, they were not shirking their responsibilities and were staging a short protest.
They seemed to be upset about the partisan attitude of the authorities towards some of their counterparts, who were given preferential treatment by being kept off during night shifts. They brought to light the fact that the government had granted them exemption from night shifts in its letter, which does not specify the time period for the same.
Speaking about staff strength, the protesters informed that a mere 137 were employed by the college hospital and this number included permanent, contractual and daily wagers. This according to them is a number too small for a 500 bedded hospital. The number of patients has also gone up since the government take over since 2013, they added.
On an average, the Out Patient department of the college hospital gets 700 to 800 patients, and there are around 350 in-patients on an average, touching 400-plus sometimes.
................................ Advertisement ................................
Dr. Sreekala ,Principal, Government Medical College, told the media that she had asked the "privileged" nurses to get individual letters from the concerned government authority on the time period the 'exemption from night shifts' had been granted. The nurses were given exemption on humanitarian considerations, she further added.
The Principal also mentioned that the Director, Medical Education had been informed about the nurse unrest and the reasons for it. Dr. Sreekala also spoke of having intimated the Director about faculty and other staff shortages at the facility.
Studied at Carmel Convent School headed the sports wing of the school, was the General Secretary Miranda House Students/ Union,, Did journalism at Patriot and Eenadu/Newstime. worked as teacher warden in schools of Mussoorie/ Dehradun/ Noida
................................ Advertisement ................................
0 comment(s) on Kochi: Nurses protest extra night duty burden