D-Dimer, poor screening test for excluding pulmonary embolism in COVID-19 patients: JAMA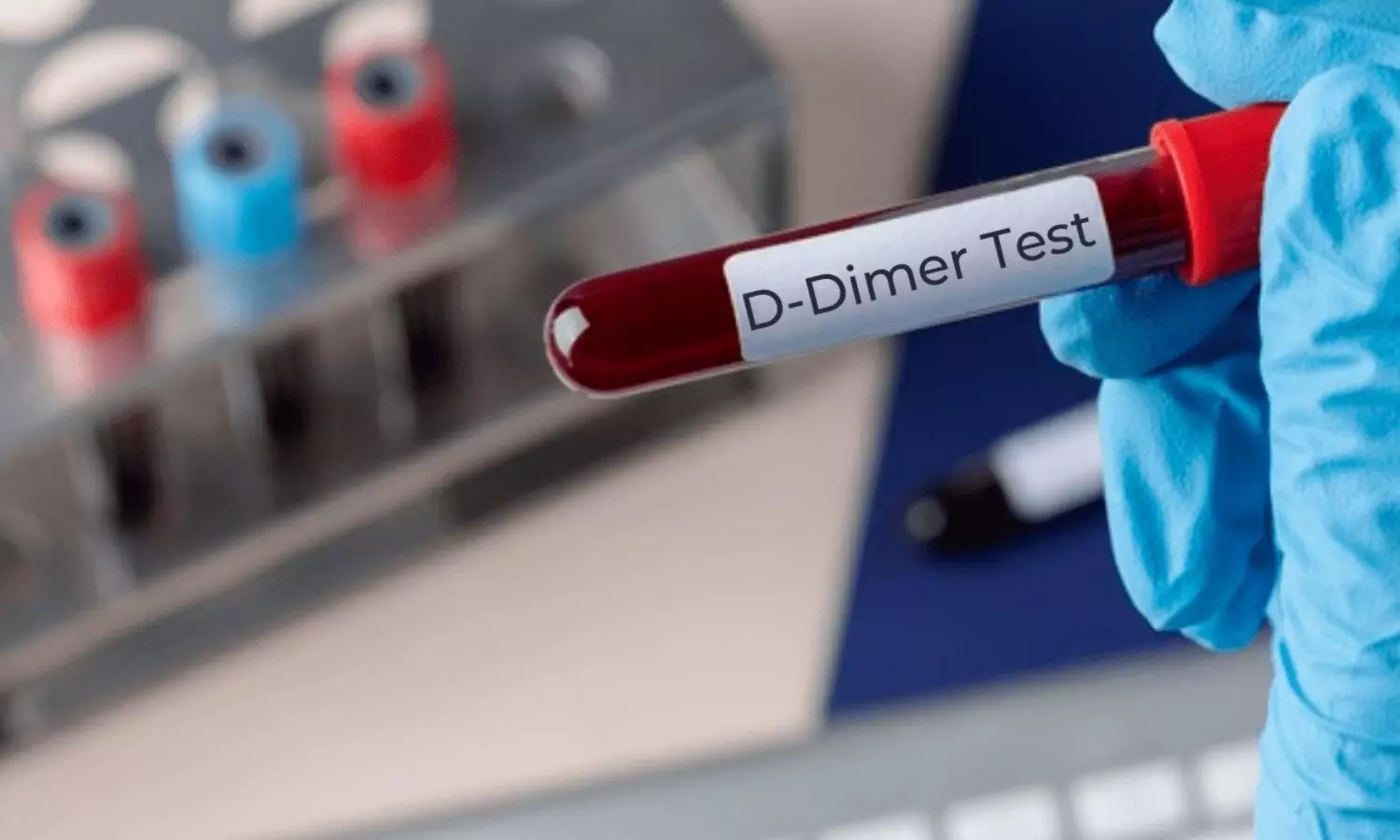 Tampa: Results from a recent study have suggested that the use of D-dimer levels for exclusion of pulmonary embolism (PE) among hospitalized patients with COVID-19 may be inappropriate and have limited clinical utility.

The diagnostic study, published in JAMA Network Open, found that all patients hospitalized with COVID-19 and having radiographic evidence of PE had plasma D-dimer levels of 0.05 μg/mL or greater. The increased values found among 92.3% of patients if using D-dimer to exclude patients with PE suggest that this assay would be less useful than in the populations in which it was originally validated, among which a minority of patients had increased D-dimer values.
The plasma D-dimer assay has been used in conjunction with clinical prediction scores to rule out PE among patients with a low pretest probability of having this condition without the need for more costly and invasive methods for more than 2 decades.
The increased risk of thrombosis among hospitalized with COVID-19 and increased D-dimer levels in the absence of thrombosis diverge considerably from the study population used to originally validate this assay. However, the availability of D-dimer samples routinely collected from patients hospitalized with COVID-19 and the heterogeneity of early, smaller studies generated uncertainty regarding the clinical utility of the assay in this setting.
Against the above background, Constantine N. Logothetis, Department of Internal Medicine, Morsani College of Medicine, University of South Florida, Tampa, and colleagues conducted a diagnostic accuracy study to characterize the performance of D-dimer using various threshold values to exclude PE among patients hospitalized with COVID-19.
For the study, a retrospective, cross-sectional sample of 1541 patients consecutively hospitalized with COVID-19 at a single hospital was collected from January 1, 2020, to February 5, 2021. Plasma D-dimer concentrations were compared with the criterion standard of computed tomographic pulmonary angiography (CTPA) among 287 patients with suspected PE. D-dimer distributions among patients with and without PE were compared.
The ability of plasma D-dimer concentrations collected the day of CTPA to correctly classify patients with PE was evaluated with a static threshold of 0.5 μg/mL or more and an age-adjusted threshold for individuals aged older than 50 years.
The study yielded the following findings:
Among 287 patients with COVID-19 and suspected PE (177 [51.4%] men), 41.1% patients required intensive care unit levels of care and 9.4% patients died during hospitalization.
· Of 287 patients with CTPA, 12.9% patients had radiographic evidence of PE and 87.1% patients did not; 92.3% patients had plasma D-dimer levels of 0.05 μg/mL or more, including all patients with PE and 225 of 250 patients without PE (91.2%).
· The median D-dimer values were 1.0 μg/mL for 250 patients without PE and 6.1 μg/mL for 37 patients with PE.
· D-dimer values ranged from 0.2 μg/mL to 128 μg/mL among patients without PE and from 0.5 μg/mL to more than 10 000 μg/mL among patients with PE, and patients without PE had statistically significantly decreased mean D-dimer values (8.7 μg/mL vs 1.2 μg/mL).
· A D-dimer concentration of 0.05 μg/mL was associated with a sensitivity of 100%, specificity of 8.8%, negative predictive value (NPV) of 100%, positive predictive value (PPV) of 13.9%, and negative likelihood ratio (NLR) of less than 0.1.
· The age-adjusted threshold was associated with a sensitivity of 94.6%, specificity of 22.8%, NPV of 96.6%, PPV of 13.9%, and NLR of 0.24.
· Performance measures for thresholds 0.5 μg/mL (sensitivity, 100%; specificity, 9.3%; accuracy, 21.0%; positive likelihood ratio [PLR], 1.10; NLR, 0) to 20 μg/mL (sensitivity, 20.0%; specificity, 96.6%; accuracy, 86.7%; PLR, 5.90; NLR, 0.57)
"The D-dimer test threshold of 0.05 µg/mL in COVID patients had a sensitivity of 100%, a specificity of 8.8%, a negative predictive value of 100%, a positive predictive value of 13.9%, and a negative likelihood ratio of <0.1 for prediction of pulmonary embolism." wrote the authors.
The authors concluded, "use of current D-dimer cutoffs was a very poor screening test for excluding PE in patients with COVID-19."
Reference:
Logothetis CN, Weppelmann TA, Jordan A, et al. D-Dimer Testing for the Exclusion of Pulmonary Embolism Among Hospitalized Patients With COVID-19. JAMA Netw Open. 2021;4(10):e2128802. doi:10.1001/jamanetworkopen.2021.28802
Source : JAMA Network Open