Lara Dutta to endorse the new Colgate Total Charcoal Deep Clean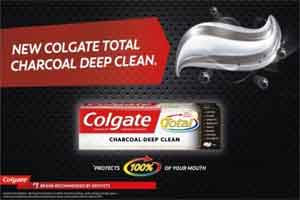 The market leader in oral care has launched its new toothpaste which claims to be using activated charcoal for a 100% clean and healthy mouth surface
The oral care industry has been in action most of the recent times, with leading brands in the industry coming up with a new formula to keep your teeth shining white, and a clean mouth surface. The latest to foray in this race of offerings is the oral care provider, Colgate. The company has just announced the launch of its new Colgate Total Charcoal Deep Clean, which has more to offer. With activated charcoal particle clean up, it protects the mouth surfaces viz. teeth, tongue, cheeks & gums.
This latest fad in the health and wellness space is supported by the presence of nano charcoal particles in the new product by Coalgate. Charcoal is supposed to possess antibacterial properties and has an ability to absorb and trap impurities, thus, removing germs and odour.
As reported by PTI,
Eric Jumbert, Director, Marketing, Colgate-Palmolive (India) Limited said, "At Colgate, we are consistent in our efforts to introduce innovations that make the practice of oral hygiene more efficient. Our newest innovation – Colgate Total Charcoal Deep Clean that provides superior cleaning vs. regular fluoride toothpaste and protects 100% of mouth surfaces
Moreover, Lara Dutta has been roped in to be the new brand ambassador for the product.Speaking of the actress, Mr. Jumbert said, "We are delighted to partner with Lara Dutta, an eminent personality, a doting mother, health and fitness enthusiast who relies on leading-edge solutions to meet the complete oral care needs of her family."
Actress and former Miss Universe Lara Dutta, who has a long-standing association with Colgate, said, "All of us are aware of the importance of oral hygiene in the context of overall well-being. The new Colgate Total Charcoal Deep Clean got my attention straight away because it provides superior cleaning and complete mouth protection. We have at some point or the other heard how Charcoal cleans extraordinarily well. I think this toothpaste is a fantastic innovation in the Oral Care segment."
The formulation comes in comes in an eye-catching, grey and white formulation, and premium packaging. The toothpaste is priced at Rs. 112 for 140 gm. The launch is being supported by a 360 degrees marketing campaign across platforms such as print, television, digital, shopper-engagement, and more.