PGIMER reschedules PhD Counselling for July 2021 session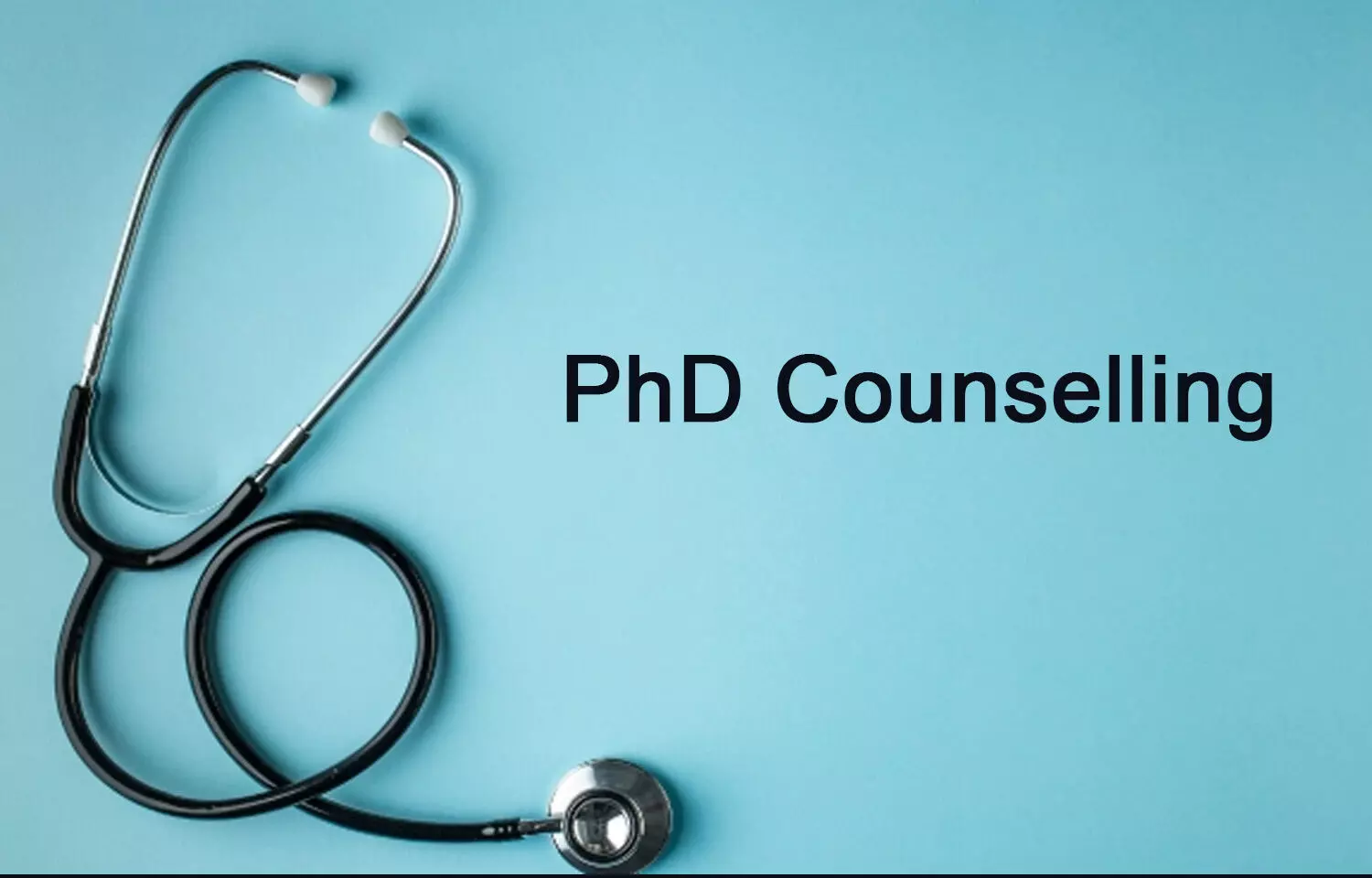 Chandigarh: Through a recent notice, the Postgraduate Institute of Medical Education and Research (PGIMER) has informed about the rescheduling of counselling sessions for the admissions to the PhD course in July 2021 session.
All the concerned candidates are hereby informed that "counselling for admission to PhD course for July 2021 session which is scheduled on 19.7.2021 has been re-scheduled on 06.8.2021 at 11:00 AM in the Auditorium of APC, PGIMER, Chandigarh." as mentioned in the notice uploaded on PGIMER's website.
List of provisional qualified candidate on the basis of merit in the entrance exam will be displayed on the PGI website shortly.
The detail of seats available in the respective course under various faculty members of the Institute is as under:-
Detail of Ph.D seats available for July 2021 session

DEPARTMENT

NAME OF FACULTY MEMBER

NO. OF MAXIMUM SEATS

AVAILABLE

ANATOMY

Dr. ANJALI AGGARWAL

01

ANAESTHESIA & INTENSIVE CARE

Dr. NEERJA BHARTI

02 (PGI/OWN Fellowship)

Dr. BANASHREE MANDAL

01(PGI/OWN Fellowship)

BIOCHEMISTRY

Dr. SADHNA SHARMA

01

Dr. INDU VERMA

01

Dr. ARNAB PAL

02

Dr. DEEPY Z.

01(PGI/OWN Fellowship)

Dr. SANT RAM

01

BIOPHYSICS

Dr. SHALMOLI BHATTACHARYYA

01

Dr. PRADEEP PUNNAKKAL

01 (PGI/OWN Fellowship)

BIOSTATISTICS

Dr. KAMAL KISHORE

01

COMMUNITY MEDICINE & SPH

Dr. MADHU GUPTA

01

Dr. SONU GOEL

02

Dr. SHANKAR PRINJA

02

Dr. POONAM KHANNA

01

Dr. VIVEK SAGAR

01(PGI/OWN Fellowship)

Dr. BIJAY KUMAR PADHI

01 (PGI/OWN Fellowship)

CYTOLOGY & GYNAEC. PATHOLOGY

Dr. S. RADHIKA

01

CARDIOLOGY

Dr. YASH PAUL SHARMA

02(PGI/OWN Fellowship)

CARDIOTHORACIC & VASCLUAR

SURGERY

Dr. RUPESH KUMAR

01(PGI/OWN Fellowship)

DERMATOLOGY

Dr. DIPANKAR DE

01

Dr. VINOD KUMAR

01

ENDOCRINOLOGY

Dr. SANJAY KUMAR BHADADA

02

Dr. PINAKI DUTTA

01

Dr. RAMA WALIA

02

EXPERIMENTAL MEDICINE & BIOTECHNOLOGY

Dr. DIBYA JYOTI BANERJEE

01

Dr. ALKA BHATIA

01

Dr. ASHOK KUMAR YADAV

01

GASTROENTEROLOGY

Dr. USHA DUTTA

01

HEPATOLOGY

Dr. AJAY K. DUSEJA

01
Dr. MADHUMITA PREM KUMAR

01

HISTOPATHOLOGY

Dr. AMANJIT BAL

01

Dr. RITAMBHRA NADA

01(PGI/OWN Fellowship)

Dr. UMA NAHAR

01

IMMUNOPATHOLOGY

Dr. BIMAN SAIKIA

02

Dr. YASHWANT KUMAR

01

INTERNAL MEDICINE

Dr. GAURAV PRAKASH

01(PGI/OWN Fellowship)

MEDICAL MICROBIOLOGY

Dr. NEELAM TANEJA

02

Dr. SUNIL SETHI

03

Dr. VIKAS GAUTAM

02

Dr. ANUP K. GHOSH

01

Dr. HARSIMRAN KAUR

01

MEDICAL PARASITOLOGY

Dr. ABHISHEK MEWARA

02(PGI/OWN Fellowship)

NUCLEAR MEDICINE

Dr. BALJINDER SINGH

02

Dr. JAYA SHUKLA

01

NINE

Dr. MONIKA DUTTA

01

NEUROSURGERY

Dr. S.K. GUPTA

02(PGI/OWN Fellowship)

NEUROLOGY

Dr. VIVEK LAL

02

Dr. AKSHAY ANAND

01

Dr. DHEERAJ KHURANA

01(PGI/OWN Fellowship)

ORTHOPAEDICS

Dr. MANDEEP DHILON

02 (In-Service Candidate) (One seat for PMR and One seat for

Orthopaedics)

OBST. & GYANECOLOGY

Dr. SUJATA SIWATCH

01

OTOLARYNGOLOGY HEAD AND NECK SURGERY

Dr. SANJAY KUMAR MUNJAL

02(PGI/OWN Fellowship)

Dr. ANURADHA

01

OPHTHALMOLOGY

Dr. VISHALI GUPTA

01(In-Service/Own

fellowship)

Dr. SURINDER SINGH PANDAV

01(PGI/OWN Fellowship)

Dr. NIRBHAI SINGH

02

PEDIATRICS

Dr. SAVITA VERMA ATTRI

01

Dr. ARUN BANSAL

01(PGI/OWN Fellowship)

Dr. AMIT RAWAT

02

Dr. MEENU SINGH

02

Dr. NAVEEN SANKHAYAN

01

Dr. JITENDER KUMAR

01

Dr. PANKAJ C. VAIDYA

01

Dr. SURESH KUMAR

01(PGI/OWN Fellowship)

Dr. HARVINDER KAUR

01(PGI/OWN Fellowship)

Dr. PRIYANKA SRIVASTAVA

01

Dr. ANUPRIYA KAUR

01(PGI/OWN Fellowship)

Dr. ARUSHI GAHLOT SAINI

01

PHARMACOLOGY

Dr. LEKHA SAHA

01

Dr. SAMITA PATTANAIK

01

Dr. ASHISH K. KAKKAR

01

PSYCHIATRY

Dr. KRISHAN KUMAR

01(PGI/OWN Fellowship)

Dr. ASEEM MEHRA

01(PGI/OWN Fellowship)

PHYSICAL REHABILITATION

MEDICINE

Dr. SOMYA SAXENA

01 (PGI/OWN Fellowship)

RADIOTHERAPY

Dr. SUSHMITA GHOSHAL

01

RADIODIAGNOSIS

Dr. NAVEEN KALRA

01