License of 136 doctors suspended/ canceled under PNDT Act: Health Minister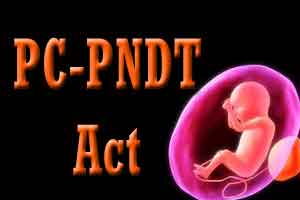 New Delhi: Recently, through a written reply to a question in Rajya Sabha, minister of state (independent charge) Smt Anupriya Patel informed about  Implementation of PC and PNDT Law.
The Pre-conception and Pre-natal Diagnostic Techniques (Prohibition of Sex Selection) Act, 1994 is being implemented in all the States and UTs. As per the Quarterly Progress Reports (QPRs) up to December, 2017 submitted by States/ UTs the implementation of the Act in the States and UTs has resulted in the filing of total 3986 court cases and sealing and seizing of total of 2007 ultrasound machines by the District Appropriate Authorities for the violation under the PC&PNDT Act across the country. Till December 2017, 449 convictions have been secured under the PC&PNDT Act and following convictions, the medical licenses of 136 doctors have been suspended/ cancelled.
Besides enactment of the Pre-conception and Pre-natal Diagnostic Techniques (Prohibition of Sex Selection) Act, 1994 Ministry of Health and Family Welfare has adopted a multi-pronged strategy entailing schemes and programmes for awareness generation and advocacy measures to build a positive environment for the girl child through gender-sensitive policies, provisions and legislation. The details of important measures taken by Government of India are given below:
Various steps taken by the MOHFW for removing the gap of Child Sex Ratio
•     The Government has intensified effective implementation of the Pre-conception and Pre-natal Diagnostic Techniques (Prohibition of Sex Selection) Act, 1994 and amended various provisions of the Rules.
•     The Government of India has notified several important amendments in Rules under the Act including the Rules for Six Months Training in ultrasound, simplified revised form F, Rules for Code of conduct for Appropriate Authorities, exemption of registration fee for Government Diagnostic Facilities and manner of appeal to the Appellate Authority under the Act.
•     Inspections by the National Inspection and Monitoring Committee (NIMC) have been scaled up.  During 2015-16, 22 NIMC inspections have been undertaken in the States of Punjab, Puducherry, Tripura, Sikkim, Uttar Pradesh, Odisha, Bihar, Mizoram, Andhra Pradesh, Haryana, Rajasthan, Maharashtra, Gujarat, Telangana, Chhattisgarh, Jharkhand, Assam, Uttarakhand, Karnataka, Tamilnadu, Madhya Pradesh and West Bengal. During 2016-17, 12 NIMC inspections have been undertaken in the States of Arunachal Pradesh, Jammu & Kashmir, Himachal Pradesh, Rajasthan, Delhi, West Bengal, Karnataka, Uttar Pradesh, Tamil Nadu, Bihar, Haryana and Madhya Pradesh. During 2017-18, 20 NIMC visits has been conducted in States of Punjab, Gujarat, Uttarakhand, Kerala, Andhra Pradesh, Manipur, Maharashtra, Jharkhand, Odisha, Assam, Chhattisgarh, Jammu & Kashmir, Sikkim, Karnataka, Uttar Pradesh, Delhi, Rajasthan, Tamil Nadu West Bengal and Chandigarh.
•     State/ UTs/ district Inspection and Monitoring Committees have been constituted in the States/ UTs and are conducting regular inspections on the ground. Up to December 2017, the State of Maharashtra conducted maximum inspections (184354) followed by Punjab (42993) and Uttar Pradesh (24565).
•     The Ministry of Health and Family Welfare is rendering financial support to strengthen implementation structures under National Health Mission (NHM) for setting up of dedicated PNDT Cells, capacity building, monitoring, and advocacy campaigns etc. In 2014-15, 2015-16 and 2016-17 Rs. 23.11 cores, Rs. 34.71 cores and Rs. Rs. 23.79 cores have been approved respectively for PNDT cells, monitoring and capacity building and IEC campaigns. Further, in 2017-18 total Rs 26.14 cores have been allocated for PNDT activities.
•     National Capacity Building Programmes for State Appropriate Authorities and State Nodal Officers have being organized regularly.
•     A comprehensive Standard Operating Guidelines (SOGs) for District Appropriate Authority has been prepared by Ministry of Health & Family Welfare for better clarity for implementation of the PC&PNDT Act.
•     Program review at the State/UTs level has been intensified. During 2014-15, 2015-16 and 2016-17 total 14 Regional Review workshops were organized for Northern, Western, Eastern Southern and North-Eastern States.


A national level consultation meeting for the standardisation of online Form F and to minimise clerical errors for preventing unwarranted cases against the doctors was conducted on 13th January 2017. As an outcome of the consultation an advisory has been sent to all the States/UTs specifying common minimum standards for developing 'Form F' software.


•     Directions given by the Hon'ble Supreme Court in the matter of WP(C) 349/2006 (Voluntary Health Association of Punjab vs. UOI & others), were communicated to the States/ UTs/and concerned Ministries/Departments for ensuring compliance.
•     The Government has also set up a Nodal Agency to regulate and remove the e-advertisements on internet relating to pre-conception and prenatal determination of sex or sex selection, prohibited under the PC&PNDT Act, 1994 as per the directions of Hon'ble Supreme Court vide order dated 16.11.2016 in Writ Petition (Civil) No. 341 of 2008.
•     The orientation and sensitization of judiciary has been conducted through National Judicial Academy. A two-day orientation and sensitisation of judiciary was organised by National Judicial Academy on 4th & 5th February 2017 in Bhopal. Further, the National Judicial Academy also conducted special PC & PNDT Act session in two orientation programmes for High Court Judges in the current financial year 2017-18.
•     States have been advised to focus on Districts/Blocks/Villages with low Child Sex Ratio to ascertain the causes, plan appropriate behavior change communication campaigns and effectively implement provisions of the PC & PNDT Act.
Total 132 cases were filed during 2014-15, 190 during 2015-2016 and 133 during 2016-17.  Till December 2017, total 1273 cases have been decided and 2713 court cases are pending in various courts of the country.
As per the information received from Registrar General of India, Sex Ratio and Child Sex Ratio of States/UT is given below:




State/ UTs wise Sex Ratio and Child Sex Ratio  as per 2011 Census




S.No


State/ UTs


Sex Ratio


Child Sex Ratio






INDIA


943


918




1


Jammu and Kashmir


889


862




2


Himachal Pradesh


972


909




3


Punjab


895


846




4


Chandigarh


818


880




5


Uttaranchal


963


890




6


Haryana


879


834




7


Delhi


868


871




8


Rajasthan


928


888




9


Uttar Pradesh


912


902




10


Bihar


918


935




11


Sikkim


890


957




12


Arunachal Pradesh


938


972




13


Nagaland


931


943




14


Manipur


992


936




15


Mizoram


976


970




16


Tripura


960


957




17


Meghalaya


989


970




18


Assam


958


962




19


West Bengal


950


956




20


Jharkhand


949


948




21


Orissa


979


941




22


Chhatisgarh


991


969




23


Madhya Pradesh


931


918




24


Gujarat


919


890




25


Daman & Diu


618


904




26


Dadra & Nagar Haveli


774


926




27


Maharashtra


929


894




28


Andhra Pradesh


993


939




29


Karnataka


973


948




30


Goa


973


942




31


Lakshadweep


947


911




32


Kerala


1084


964




33


Tamil Nadu


996


943




34


Pondicherry


1037


967




35


A & Nicobar Islands*


876


968