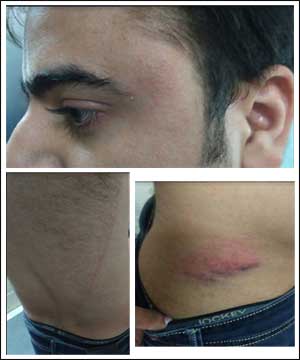 New Delhi: A 24 year old medical practitioner from LNJP hospital was allegedly brutally assaulted by CISF personnel at the Shahdara Metro station
Speaking to the Media, the doctor  informed his story " While for going to my duty, I entered Shahdara metro station at around 8.45am, by mistake I kept my bag on a wrong table to which the CISF person(Jitendra)said to me very rudely  " tere liye alag se police wala bulau kya.. chal bag udhar lakh  " ( Should i call the police for you only?..keep your bag there)" .
I asked very politely  to not to speak in such manner to which he said "taare nhi dekhe hai kya mere" ( Cant you see the stars on my shoulders?) When I said I am doctor, please behave properly, he said "tu hoga apne ghar me doctor.. mai nhi maanta.. ". The doctor informed that he was then taken by the personnel to another room, where more CISF personnel were there
"The first thing they did was start beating me with their Lathi without even  saying a word. They kept beating me on my back, hips and face. Before i could even understand anything , one of them kicked my genitals. They slapped me so hard and turned my face red . They snatched away my mobile  to avoid any evidence. All time they were abusing me and used all sorts of cuss words. I was continuously pleading to let me go . It was only after a while when they felt they had enjoyed enough that they left me.  I was assaulted inside the room for more than 10-15mins continuously by 2-3 CISF persons," the victim Dr Lakshaya Beriwal narrated
" I barely was able to walk and somehow managed came to emergency of my hospital. I have bruises all over my back , hips and face. You can see the medical report which says about all of my serious injuries.
Everything is recorded in CCTV footage of metro station , how they dragged me to the room, how i came out of the room all beaten up and injured.
A complaint has been given by the doctor at the Delhi Metro Rail Police, Shastri Park police station. DMRP is probing the issue.
2 comment(s) on Delhi : LNJP Doctor brutally assaulted by CISF Personnel at Metro Station