Lucknow: Doctor- Patient dispute reported from KGMU ward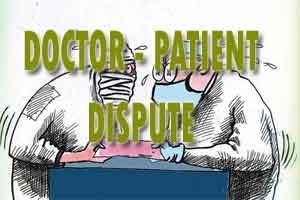 The Gandhi ward of King George's Medical University in Lucknow came to a halt for 4 hours of reported suspension.

The patient had to suffer during this time as the junior doctors at KGMU clashed with the attendants.

The incident was reported after a dispute over the matter of a patient being treated at the ward led to a serious clash between the doctors and the attendants later. The patient was reportedly in a serious condition, and with his health deteriorated at the time when he was shifted to the Gandhi ward, the alleged delay by the resident doctors resulted in his death. This strong allegation by the attendants led to the reported clash. The dispute later turned into a clash where both the sides bashed up each other.

The junior doctors even threatened to go on a flash strike, only before they were counseled by the hospital administration. Eventually, both sides lodged a complaint against each other in the Chowk police station.

As reported by TOI, the case relates to Shiv Nandan Lal, a native of Madiaon area who was admitted to KGMU on Wednesday. He was referred from a private hospital in Niralanagar. The patient was in the treatment of Dr K K Chawlani and was shifted to Gandhi ward on Thursday morning.

As per reports, the patient's condition deteriorated at around 8.30am. The junior doctors were called but the patient died. Attendants alleged that delay on the part of resident doctors led to the patient's death, while junior doctors denied the claim.