Madhya Pradesh: 1,200 junior doctors Submit Mass Resignation, FORDA comes out in support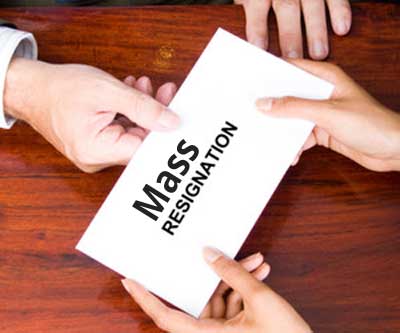 Bhopal: Health services in Madhya Pradesh were affected today as around 1,200 junior doctors at five government hospitals in the state resigned to protest the "expulsion" of five of their colleagues in Gwalior.
Junior doctors in government-run hospitals across the state launched an indefinite strike yesterday to press for their various demands, including a hike in stipend. However, five of the protesting doctors in Gwalior were expelled by the authorities yesterday.
There are five government hospital-cum-medical colleges across Madhya Pradesh. They are in Bhopal, Gwalior, Indore, Jabalpur and Rewa.
"Around 1,200 junior doctors from the five government hospital-cum-medical colleges in the state resigned en masse to protest the expulsion of five of our colleagues by the state government," president of Junior Doctors Association in Madhya Pradesh, Dr Sachet Saxena told PTI.
He accused the government of treating the junior doctors as its "servants".
"The government has clamped Essential Services Maintenance Act (ESMA) to thwart our indefinite strike that began yesterday for a hike in stipend and other things," Dr Saxena said.
According to him, after tendering resignation, the doctors have started leaving the hostels.
Due to the strike and en masse resignations, health services in these hospitals were affected and hundreds of patients were put to inconvenience.
When contacted, Minister of State for Health Sharad Jain said the government was making alternative arrangements to ensure that people do not suffer due to these developments.
Medical Dialogues had earlier reported that five medical college Junior Doctor Association's across Madhya Pradesh along with  Class III and Class IV employees have been on an indefinite
strike
since Monday over issues like a poor stipend, improper canteen facilities and poor sanitation in all the Medical Colleges and Hospitals. The  Additional chief secretary (ACS) and Directorate of Medical Education (DME) have been sought for appointments to resolve issues.
In response, the state invoked Essential Services Maintenance Act (ESMA) on Monday, however, the JDA continued its strike. The striking doctors have found the support of a national association of Resident Doctors, FORDA, which has now written to the Union Health Minister to intervene in the matter and help out the striking doctors in fulfilling their demands.
The body also threatened a nation-wide strike of resident doctors if their counterparts' demands in Madhya Pradesh are not met
Read Also: MP: Medicos of 5 medical colleges on strike demanding hike in stipend, reduction in fee