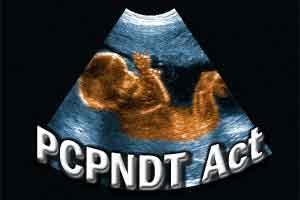 Mumbai : Informing the state legislatively assembly about the action taken under the PC-PNDT act, the Maharashtra Health department informed the between 2002 and 2016, around 552 doctors have fallen under the scanner of the government for violating PC-PNDT Act rules and subsequent court cases have been filed against them
In a written reply to the questions that were raised in the assemble during the question hour, health minister Dr Deepak Sawant said the department has filed cases against centres found to be violating the anti-sex determination rule. While citing the nature of the violations he said, cases have been filed for not registering the sonography centres, doing ads and other reasons.
As reported by TOI,  the minister informed that during the said period MMC had been asked to cancel the licences of doctors who had been found guilty in 155 cases. The minister also said out of this, 50 licences had been suspended for a brief period and 49 had been issued warnings. Besides this, licences of seven doctors have been cancelled while 11 doctors have been acquitted by the court. While one doctor died, another was found of guilty of bogus certificate. And 30 cases are pending.
................................ Advertisement ................................
The Members of the legislative assembly have been reported to have raised questions towards the medical profession misusing the ultrasound machines for carrying sex determination tests and had demanded stats of the action taken by the state government in this regard.
................................ Advertisement ................................
Meghna A Singhania is the founder and Editor-in-Chief at Medical Dialogues. An Economics graduate from Delhi University and a post graduate from London School of Economics and Political Science, her key research interest lies in health economics, and policy making in health and medical sector in the country.
She can be contacted at meghna@medicaldialogues.in.
Contact no. 011-43720751
................................ Advertisement ................................
0 comment(s) on Maharashtra: 552 Doctors faced PNDT whip since 2002