Maharashtra CM inaugurates MPCT Hospital, Navi Mumbai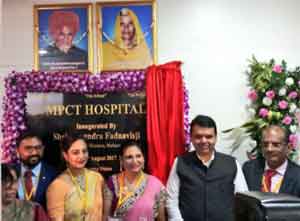 New Delhi: Mahatma Phule Charitable Trust built up a 12-floor MPCT General Hospital, a Surana associate, with 100 beds at Sanpada, Sector No. 4, Navi Mumbai. This state-of-the-art hospital was inaugurated by Chief Guest Devendra Fadnavis, the Chief Minister of Maharashtra. The Guests of Honor included Rahul Shewale – MP, Manda Mhatre – MLA, Sandeep Naik – MLA, Sudhakar Sonavane – Mayor of Navi Mumbai, Yogesh Sagar – MLA, Narendra Patil – MLA, Bapusaheb Phadtare and Ganesh Naik – Ex Minister of Maharashtra. The event was blessed by Jain Muni Nayapadmasagar Maharaj Saheb.
In his inaugural speech, Fadnavis stated that MPCT Hospital is a state-of-the-art hospital. It has the latest equipment coupled with the latest technology. It is a laudable initiative taken by the hospital to treat kids for cancer from poor socio economic status across Maharashtra, treating one child free every day for one year.
The Chief Minister further stated that in the field of cancer, Tata Hospital is a leading progressive hospital offering pre-education to the staff of other hospitals which are desirous to expand their facilities for cancer. MPCT Hospital should follow this standard. He stated that during the last year 20,000 surgeries had taken place from the Chief Minister Relief Fund. This year this activity shall be further expanded.
Param Pujya Nayapadmasagar Maharaj Saheb walked 42 km, from Bhayendar to Sanpada to attend this function, within two days. While blessing the management, dignitaries and the elite gathering, he stated that cancer is a very serious and life threatening disease and a lot of research requires to be done in this field. If we want to save the world from life threatening diseases and calamities, we should agree and appreciate the 'Right to Live' for birds and animals. The mankind should provide necessary protection to their lives, for their own good.
"MPCT Hospital has most advanced PET Scan of GE, which is used for diagnosis and treatment of cancer. A special inaugural scheme has been offered by MPCT Hospital to carry out Pet Scan at Rs. 10,000/-, which normally costs Rs. 25,000/-. This offer is for first 6 months after inauguration since patients from all over Maharashtra can avail this benefit. There are only 9 such centers in entire Mumbai with this Pet Scan facility. Pet Scan imaging is more safe and beneficial to patients since the scan period is reduced to half and it requires only half dose of radioactive material FDG," said Dr. Prince Surana, CEO of Mahatma Phule Charitable Trust.
MPCT Hospital is the second largest hospital and first of its kind cancer hospital in Navi Mumbai and surroundings. The hospital has 3 state of art operation theatres equipped with laminar air flow jointless and seamless operating systems. It has provided 20 bedded fully equipped Intensive Care Units with German state of the art monitoring systems. There is a provision of three isolation beds in the hospital. It has 24 channel brachytherapy for the treatment of cervical and breast cancer.
The hospital will be extending its services to all poor patients under the Maharashtra State and Central GOC Health Schemes, including Mahatma Phule Jan Arogya Yojna (MJPJAY) scheme.