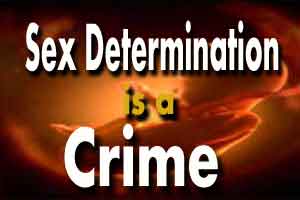 Nashik : In probably a first, a district court in the Pimpalgaon area has ordered a punishment of 3 years imprisonment as well as a fine of Rs 5,000 on two medical practitioners who were caught violating the terms of PC-PNDT Act.
TOI reports the case of Doctors Arun Patil and Shobhana Patil in Pimpalgaon Baswant, who were found violating the rules governing pre-natal sex determination in 2012 at their private hospital, which also has a sonography machine. Following the same, In May 2016, the Maharashtra Medical Council suspended the accreditation of the couple after charges were framed. The couple in the meantime had approached the court in this regard.
................................ Advertisement ................................
The court, taking a strong stance against the dwindling sex ratio in the area as well as  setting an example for future cases of sex determination, has ordered a 3 year imprisonment as well as a fine of Rs 5000 for both the doctors. Moreover, with the verdict, the couple now face a permanent removal of their names from the medical register.
Regarding the dwindling sex ratio and sex selective abortions, district civil surgeon Suresh Jagdale had earlier told the newspaper, " Our aim is to check the malpractice of sex determination throughout the district. In Nashik, the sex ratio is 922 females per 1,000 males, when it should have been 970 females. It means that a large number of sex determinations and subsequent abortions are taking place."
................................ Advertisement ................................
"Considering the sex ratio of 970 females per 1,000 males, there should have been 33,950 child births. However, since the sex ratio in the district is 922 females per 1,000 males, there were 32,270 female births, which means that were at least 1,680 abortions." he added
Meghna A Singhania is the founder and Editor-in-Chief at Medical Dialogues. An Economics graduate from Delhi University and a post graduate from London School of Economics and Political Science, her key research interest lies in health economics, and policy making in health and medical sector in the country.
She can be contacted at meghna@medicaldialogues.in.
Contact no. 011-43720751
................................ Advertisement ................................
17 comment(s) on Maharashtra: Doctor Couple gets 3 years jail for sex determination